Explore a Bounty of Harry Potter–Related Supporting Materials
Reviews! Slideshows! Supercuts! Harry!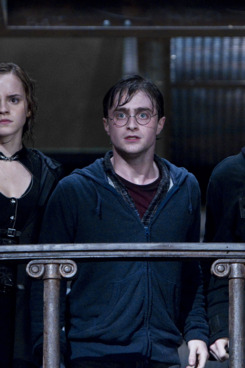 Perhaps you heard: Harry Potter and the Deathly Hallows 2, the final installment of the beloved franchise, arrives in theaters today, where it is already breaking box-office records. To help celebrate the film, and make your weekend as Potter-dense as possible, we would like to draw your attention to a wide array of Harry Potter–related supporting materials. Please, read David Edelstein's review of the film, and then check out our ranking of all eight movies; take a look at what Hogwarts' Facebook page would look like; marvel at how Emma Watson, Daniel Radcliffe, Rupert Grint, and the surprisingly handsome Matthew Lewis (Neville Longbottom) have aged; hear from Draco Malfoy — ahem, Tom Felton — about the series ending; watch a hypnotizing supercut of spells cast in the movies; learn what a plastic surgeon suggests Harry Potter do about his scar; and consider our picks for the best, worst, and saddest scenes in the series, and chime in with your own. Happy Harry Pottering!