Jake Gyllenhaal Ate His First Worm on Man vs. Wild Last Night
Ravine crossing, shirtless wading, and more.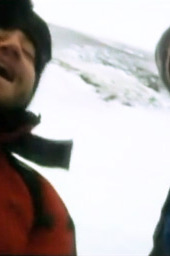 The much-anticipated Jake Gyllenhaal episode of Man vs. Wild premiered last night, and there's good, though perhaps unsurprising news: Both Jake and Bear Grylls survived! The dudes spent two days gallivanting around Iceland, facing your standard range of extreme weather and wilderness challenges. While no urine was recycled, Gyllenhaal did prove adept at a number of survival activities. That ravine crossing: legitimately nerve-racking. That shirtless wading: pleasing! Most important, Jake managed gross tasks like gutting a rotten sheep and eating frozen worms all without screaming, crying, or throwing a fit over the inevitable (but surely annoying at this point)Brokeback Mountain jokes peppered through the show. All in all, an impressive and likable performance from Gyllenhaal. But you should watch for yourself! Herewith, the manliest two minutes of Jake's Iceland adventure, for your amazement and delight.