My Morning Jacket Got to Be Down With the Muppets After All
Hear MMJ's take on Muppets classic "Our World."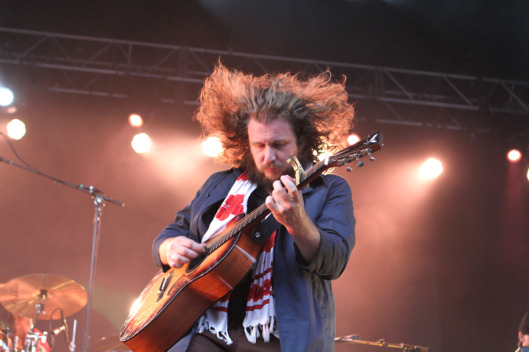 Here's Rolling Stone, reporting on the recent My Morning Jacket album Circuital before its release this May: "Some of the first songs written for the disc ... were originally intended to be played by Muppets: An exec recruited My Morning Jacket to record music for a new version of the Electric Mayhem band (the one with Animal on drums), promising a Gorillaz-style tour where MMJ would play behind a curtain while Muppet holograms bashed away onstage. The psyched band began writing and demo'ing, but the exec got fired and the project disappeared ... [front man Jim] James also got a call to write a couple of songs for Jason Segel's new Muppet movie, but they didn't use those either. 'So now, twice, Muppet glory has been within my grasp,' says James. 'It's pretty heartbreaking.'" And yet, as Vulture has previously pointed out, James and the gang did get to contribute to The Green Album, a Muppets covers album being released alongside Segel's flick. And now, seeing release: the band's cover of "Our World," off the 1977 Muppets Christmas special, Emmet Otter's Jug-Band Christmas. It's a lovely rendition, made even more joyful by the fact that Jim James continues to have all his dreams come true. Anyway, check it out down below.