To Get Christina Hendricks Cast As Wonder Woman, Nicolas Winding Refn Will Utilize Vulture, Trickery
Warner Bros., let Refn make his Wonder Woman movie!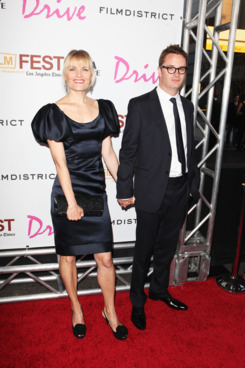 Danish director Nicolas Winding Refn is at Comic-Con to promote his Ryan Gosling neo-noir Drive, but when Vulture met up with him earlier today, it felt like the ideal venue to talk with the director about his longtime wish to make a Wonder Woman movie. Refn had said at the Los Angeles Film Festival that his Drive actress Christina Hendricks would be the perfect choice to play his super-heroine, and he still stands by that fantasy-casting. "First of all, she's an awesome actress," he gushed. "Second, she's so beautiful and so sexy and such a powerhouse of a woman that Liv, my wife, said that's the prototype of a real woman. She has everything a guy would want. And yet she's everything a girl thinks is the right way to look. So for me, she's the perfect choice."
"And she's mature, which I think Wonder Woman has to be, because it's a very complex character," he continued. "You know, the whole Wonder Woman concept is 'What if women were more powerful than men?' And I certainly can't come up with a more ideal choice to play that, both consciously because she's very smart but also because of her sensibility and her physicality … so for me, she's the perfect choice because she has so much sensibility and sexuality, but it's true sexuality. And she has a body to die for. I certainly don't know anybody of both sexes who doesn't find her extremely attractive."
There's just one problem: Warner Bros. hasn't actually agreed to make Wonder Woman with Refn, though he and Gosling are currently working with the studio on a Logan's Run remake. Shouldn't that give him an in with the execs in charge of Diana Prince's future? Refn still pleaded with Vulture to make his case, albeit with a misleading headline. "All you have to do is say, 'Warner Brothers has agreed to make Wonder Woman with Nicolas,'" he laughed. "We'll just write it, and then Warner Brothers will be like, 'Did we do that? Well, I guess we did it. It says we did it, so I guess we did it!'"
In the meantime, Refn says that the terrific Drive is a superhero warm-up of sorts: "You can kind of say that the driver is a man who is caught between two worlds. At night, he is a man in costume who roams the streets of L.A., wanting to protect the innocent. And in the day, he's a car mechanic and a stuntman. And through the course of the movie, he realizes he's schizophrenic in a sense that he doesn't have two personalities, but he's two people. And he, through the course of the movie, becomes the superhero that he plays in films, and saves the innocents against the evil … it's mythological storytelling, which is what superhero stories are."