Ratings for Roseanne's New Reality Show Are Not That Great
<em>Pawn Stars</em> drew more viewers.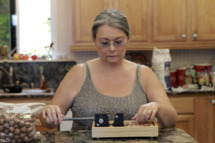 While Lifetime issued a press release this afternoon touting the debut of Roseanne's Nuts as a success story which tripled the network's demo ratings in the 9-10 p.m. Wednesday timeslot, a closer look at the Nielsen numbers shows that Roseanne's much-hyped comeback didn't cause viewers to go nuts. The premiere half-hour drew 1.6 million viewers, while a second episode averaged a little less than 1.5 million. That figure put the show out of cable's top 25 most-watched shows for the evening and, perhaps more embarrassingly, was below the tune-in for an episode of Pawn Stars Lifetime imported from sister network History and aired in the 8 p.m. hour. What's more, Lifetime drew around 1.3 million viewers last Wednesday at 9:30 by airing a Pawn Stars repeat, which means the heavily hyped Nuts improved over Lifetime's timeslot performance last week by barely 10 percent. Nuts did do slightly better among younger viewers, however, with both half-hour episodes just barely squeezing into Nielsen's cable top 20. Here's hoping there's time to work in a John Goodman cameo.