Robert Rodriguez Tells Vulture About Machete in Space, Sin City 2, and Fire and Ice
At Comic-Con, the director gives us the skinny on all his outrageous new sequels.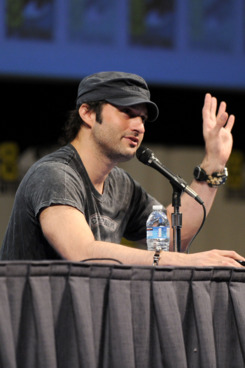 Some filmmakers come to Comic-Con with a surprise trailer to show, but Robert Rodriguez trumped them all last night in Hall H: He announced several new projects, including Sin City 2, two sequels to Machete, and a live-action remake of Frank Frazetta's animated Fire and Ice. When the cowboy-hatted auteur talked to Vulture afterward at a party celebrating his Quick Draw Productions, he was most excited that now, he didn't have to keep those projects secret anymore. "Some of this stuff I've been working on for seven months, but I've had to shut my mouth until Comic-Con," he said. "It's the best audience, the best time to reveal something. I control my own studio, but it's been hard to control even my own mouth. It's been excruciating!"
Rodriguez confirmed that both Machete sequels are greenlit, but before he makes the second film, Machete Kills, he'll produce another fake trailer for the improbably named third film, Machete Kills Again … in Space. (Fitting, since the first Machete originated as a fake trailer sandwiched in the middle of Grindhouse.) "I think it's going to get people excited about Machete again," Rodriguez said, promising "a light-saber machete, space-babes … it'll be kind of like Moonraker!" We humbly suggested that the second, earthbound Machete might pale in comparison after audiences glimpse Rodriguez's antihero carving up baddies in space, but the director laughed, "There's kind of a reason why the trailer has to come first, which you won't know until you see the second one. But I wanna see that one right now, too!"
As for the long-promised Sin City 2, Rodriguez said during the panel that if it happens, it'll happen this year. Why hasn't it happened yet, Vulture asked? "Well, we're still working on the script," Rodriguez said. "We can go and make it as soon as we have that script, but people have been expecting so much from it, we really have to live up to that for me to get excited." He expects to reunite a good chunk of the first film's cast: "I'm pretty sure they'll all want to be a part of it. And the way we shoot those things is, if they're not available when we start shooting, we just shoot them when they are available and stick 'em in there."
As for Fire and Ice, Rodriguez said he's been a fan since childhood of Frazetta, a revered fantasy illustrator whose lush paintings covered novels like John Carter of Mars and Conan the Barbarian, and he hopes that in the same way he was able to make Frank Miller's work come to life in Sin City, he can "do that times ten with Frazetta."
But does that style work in live-action? The recent trailer for the big-screen adaptation of John Carter seemed to indicate that its director, Andrew Stanton, had to tone down Frazetta's designs to make them work in the real world. "You wanna know why?" Rodriguez asked. "Andrew Stanton actually told his artists, 'Don't bring me Frazetta!' Frazetta's version of John Carter made such an impression on them that Stanton had to say, 'We can't just rip off Frazetta, we have to come up with something new.' Well, I can rip off Frazetta!" He laughed. "That's the whole idea. We don't have to shy away from it. We can run towards it."
Rodriguez made a lot of promises last night, but he's not worried about completing all those new films. "I kind of like working fast," he told us, gesturing to the Frazetta paintings that decorated the party. "I mean, Frazetta would be on a deadline and sometimes paint some of these in a night. It's amazing what you can do in a night, if you put your mind to it and forget all the other bullshit. When you just get to work, you can do quite a bit."