The Fug Girls Track the Fashion Evolution of Ryan Gosling
From trucker hats to lots and lots of velvet, here's what goes on over the abs.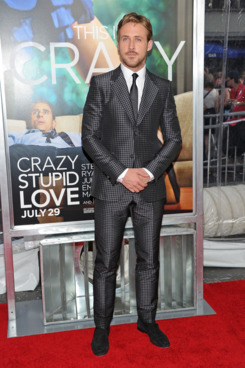 Ryan Gosling's latest role (in Crazy, Stupid, Love, which opens on Friday) seems to focus heavily on what's under his shirt — per the previews, a rock-hard six-pack that we would be happy to let chill in our fridges — but in real life, the former Mouseketeer has turned himself into something of a fashion plate. We're used to seeing the 30-year-old Gosling on screen as anything from a neo-Nazi to a sex doll's boyfriend to a lumber mill worker carrying a mushy notebook; not exactly the kind of dudes who shop at Barneys. That's why it's so surprising to see his developing off-screen affinity for shiny suits, colorful jackets, and yes, velvet. It's been an epic journey from his days as Sandra Bullock's trucker-hat-wearing boy toy; join us as we chart how and when Gosling came out of his sartorial shell.