TNT Officially Picks Up Dallas
Today's your day, Patrick Duffy fans.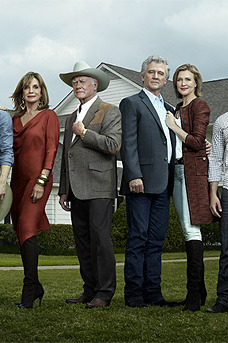 TNT has officially ordered ten episodes of its Dallas revival, which will premiere next summer but have a "sneak peek" on Monday. Patrick Duffy, Larry Hagman, and Linda Gray are all resuming their original roles as warring members of the Ewing clan, but Dallas: The New Generation focuses on Josh Henderson as J.R.'s son John Ross and Jesse Metcalf as Bobby's son Christopher. Jordana Brewster forms the hypotenuse to that cousin-y love triangle/rivalry, and Julie Gonzalo plays Christopher's fiancée. The show's not really called Dallas: The New Generation, but it could be.