Come Turntable With Vulture! Plus, Five Suggestions for Turntable Theme Rooms
We're D.J.-ing a room. Or take some jumping-off song subjects for you to D.J. on your own.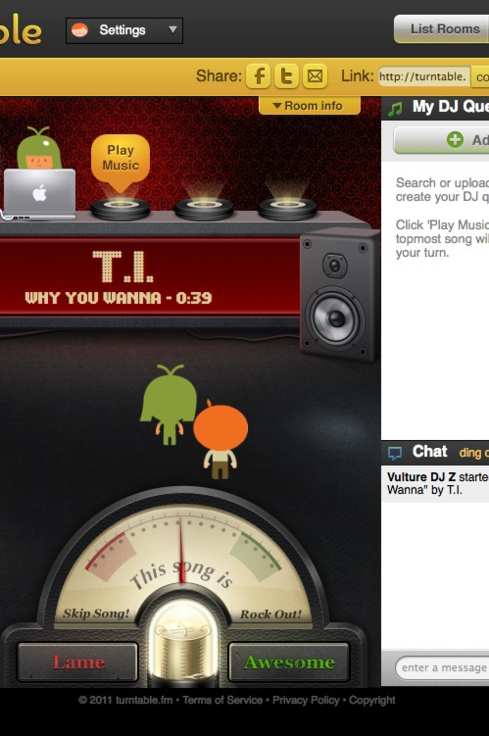 So, have you checked out Turntable.fm yet? For the uninitiated, it's a free music streaming site that allows you to D.J. for friends (and strangers, if you want). Basically, it's a group chat room with the ability to play music, and it's pretty fun! Fun enough that Vulture decided to set up our own Turntable room, with all the picks from our Right-Clicks and Recommends and Clickables, plus that monster Girl Talk Backyard-Barbecue Mix. We'll be D.J.-ing in there all day, so please come hang out and click "Awesome" frequently. Or, if you'd rather strike out on your own, here's a suggestion: theme rooms! Like a theme party, except you don't have to wear legwarmers or a GloWorm suit. We put together some example themes, with a sample (but by no means comprehensive) playlist for each. Feel free to suggest your own in the comments.
Rex Manning Room: Memorable Songs From Nineties Movie Soundtracks
Stay - U2 (Reality Bites)
Kids in America - The Muffs (Clueless)
Kissing You - Des'ree (Romeo + Juliet)
Secret Garden - Bruce Springsteen (Jerry Maguire)
Bitter Sweet Symphony - The Verve (Cruel Intentions)
Kiss Me - Sixpence None the Richer (She's All That)
Sugar High - Coyote Shivers (Empire Records)
How To Survive in South Central - Ice Cube (Boyz in the Hood)
Walking on Sunshine - Katrina and the Waves (High Fidelity)
Gangsters Paradise - Coolio (Dangerous Minds)
Kiss From a Rose - Seal (Batman Forever)
Lust for Life - Iggy Pop (Trainspotting)
Steal My Sunshine - Len (Go)
The "Valerie" Room: Covers That Are Better Than the Original — Controversial, We Know
Valerie - Amy Winehouse
Hounds of Love - Futureheads
Hurt - Johnny Cash
Help From My Friends - Joe Cocker
Every Teardrop is a Waterfall - Robyn
I Will Always Love You - Whitney Houston
Last Kiss - Pearl Jam
Til There Was You - the Beatles
When You Were Mine - Cyndi Lauper
Sea of Love - Cat Power
Hazy Shade of Winter - Bangles
Hallelujah - Jeff Buckley
I Think We're Alone Now - Tiffany
Because The Night - 10,000 Maniacs
Torn - Natalie Imbruglia
The "No Homeless" Room: Songs About Extremely Wealthy People, Original Theme via Christine Friar
Money, That's What I Want - the Lizards
Gold Digga - Kanye West
Money Money Money - ABBA
Luxurious - Gwen Stefani
Rich Girl - Hall & Oates
I Get Money - 50 Cent
Uptown Girl - Billy Joel
Glamorous - Fergie
I Wanna Be Rich - Calloway
Money Cash Hoes - Jay - Z
Hotel - Cassidy
Chic, C'est La Vie - Countess Luann
The Room of Therapy Breakthroughs: Song Titles That Could Also Be Used in a Psychiatrist's Office
It's Not Right, But It's Okay - Whitney Houston
I Gotta Get Through This - Daniel Bedingfield
The Sound of Settling - Death Cab for Cutie
Don't Think Twice, It's Alright - Bob Dylan
If I Ever Feel Better - Phoenix
I Think I Need a New Heart - Magnetic Fields
Please Please Please Let Me Get What I Want - The Smiths
Take It Or Leave It - The Strokes
Places You Have Come To Fear The Most - Dashboard Confessional
Smile Like You Mean It - The Killers
Hey Jealousy - Gin Blossoms
Something Good Can Work - Two Door Cinema Club
It's All Coming Back To Me Now - Celine Dion
Shamu's Killer (Whale) Jams: Songs About Fish and Other Marine Life
Jacques Cousteau - Swimming With Dolphins
Barracuda - Heart
The Dolphin Song - Olivia Newton John
Shark in the Water - V V Brown
The Salmon Dance - Chemical Brothers
The Lobster Quadrille - Franz Ferdinand
Superfast Jellyfish - Gorillaz
Starfish - Sister Hazel
Catfish Blues - Jimi Hendrix
The Golden Eel - Ween
The Whale Song - Modest Mouse
Starving in the Belly of a Whale - Tom Waits