Ashton Kutcher Will Be Playing an Internet Billionaire on Two and a Half Men
And he'll have a broken heart.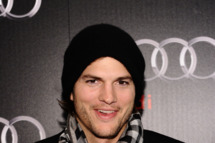 We still don't know for sure if Charlie Sheen's character on Two and a Half Men will actually die, but we finally do know something about the character to be played by Sheen's replacement, Ashton Kutcher. According to CBS Entertainment chief Nina Tassler, Kutcher, who famously has invested in a number of Internet start-ups, will play an Internet billionaire named Walden Schmidt. But not just any billionaire: He'll be a rich guy with a broken heart. Awwwwwwww.