Babyoncé's First Single: 'If I Were a Boy (the Remix)'
We wrote Babyoncé a song. "If I were a boy / a miniature Jay..."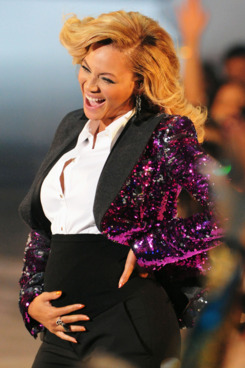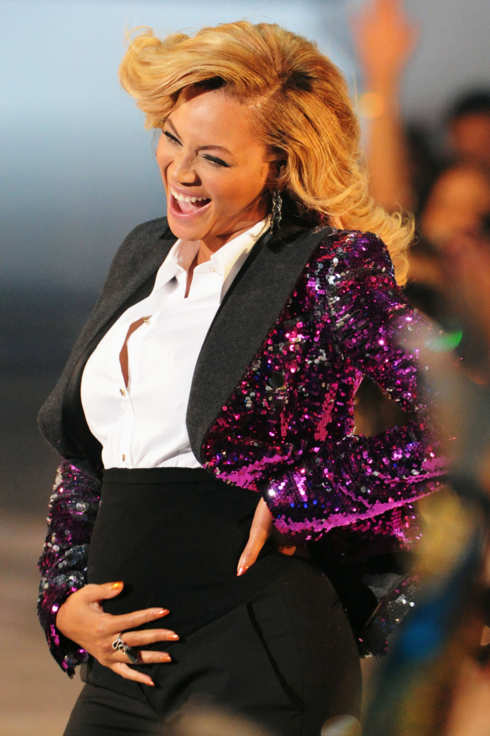 Where were you when you learned that Beyoncé was pregnant? Have you managed to calm down since? If not, you are in good company: The Babyoncé announcement broke Twitter records, charmed the surly Justin Vernon ("That is awesome as shit, culturally speaking"), and even inspired the usually very private Jay-Z to smile, and then salute his wife, in public. Clearly, this is not your average celebrity pregnancy. It's the first child of arguably the coolest (sorry, Obamas) celebrity couple in the country, both at the top of their musical games — or at least very convenient moments in their respective album cycles. The ever-savvy Beyoncé and Jay-Z made the most of the news, keeping rumors remarkably quiet, then dropping the baby bomb center stage at the VMAs, with a tummy rub and some background screaming from Kanye. How could we resist such fanfare? The answer is: we cannot. So Vulture has done what needs doing and given the forthcoming child its dedicated anthem, the "If I Were a Boy (Remix)," told from the perspective of the baby, because obviously the kid needs a jam straight out of the womb (and we couldn't help ourselves). Additionally, since we'll be covering Babyoncé regularly, we wanted to make sure that Babyoncé is the consensus nickname: In the interest of comprehensiveness, we have rounded up most of the options currently in contention. Please, let us know which you prefer, and feel free to add your own.
Here are the lyrics to Babyoncé (or your preferred nickname)'s first hit, "If I Were I a Boy (the Remix)," sung to the tune of the original. (It is highly suggested you actually play the song while reading along.)
If I were a boy
a miniature Jay
I'd roll out to the park with my mama
And wear pink if I wanted
And go
Drink juice with my Dad
And chase after girls
I'd kick it with Apple and Moses
And I'd never get confronted for it
'Cause my dad's cooler than theirs
If I were a boy
I know I would be the man
'Cause my parents are so awesome
I swear that I'd take after them
I'd hang out with 'Ye
And go shopping with Goop
Spend some QT with Rihanna
Just like all my babies wanna
'Cause I'm the most famous kid on the Earth
If I were a boy
I'd drop a single at 3
Get Dad to do a guest verse
And hope he don't embarrass me
I'd dance with my mom
Take the stage like a pro
in my "Single Ladies" onesie
That's cute when you're a baby, when you're a baby, oh
If I were a boy
I know I would be the man
'Cause my parents are so awesome
I swear that I'd take after them
I'd hang out with 'Ye
And go shopping with Goop
Spend some QT with Rihanna
Just like all my babies wanna
'Cause I'm the most famous kid on Earth
I'm a little nervous about the paparazzi
And every blog in the world's inventing dumb names for me
If I were anyone else, I'd freak out
But I'm not just a boy
I will be the man
'Cause my parents are so awesome
I swear that I'll take after them
I'll hang out with 'Ye
and go shopping with Goop
Spend some QT with Rihanna
Just like all my babies wanna
'Cause I'm the most famous kid on the Earth
And a roundup of suggested baby nicknames:
- Babyoncé
- Beyby
- I Am Sasha Fetus (this one already has a Twitter account)
- Beyby-z
- Jay-bee
- The EmBeyo
- Destiny's Child (With accompanying joke: "Hey, did you hear that Jay-Z isn't the father?" "What?" "Yeah, it's Destiny's Child.")
- Baby Boy
- Naughty Girl
- Crazy in Utero
- B'bay
- Bootie-licious
- 4-tus