Bon Iver's Justin Vernon Is Not a Fan of the VMAs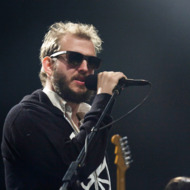 Bon Iver front man Justin Vernon had some harsh words about the VMAs, although even he had to admit that the dawn of Babyoncé is "awesome as shit, culturally speaking." The rest of the show, he says, was not. "Can I just ask, the reader, us, we ... as non-rhetorically as possible: don't we seem dumb? didn't MTV lose the fight against themselves? Didn't Rock'n'Roll STOP? Why are the lights so bright? isn't our talent as artists enough? Why do we try SO hard? Does a moonman mean what it did back then? Should we feel pumped when we get one? Should our mom's cry?"

What a Moonman meant back when, Justin? When the Nobel committee first envisioned it as an honor to bestow upon the most emotionally authentic and culturally enriching artist? Vernon laments the current state of affairs, wondering, "Why are we waving around so much? Why do we NEED this shit so bad? Why don't we just have MUSIC? DO music? soul? I don't know. I don't mean to criticize. Anyone. Actually. Except for MTV." He says that money corrupts expression, that it's "the absence of spirit, glue, fabric of what makes us a person."
Photo: Wendy Redfern/Redferns