Das Racist Are Janet Jackson, Ritchie Valens, DJ Khaled, Etc.
Hear their new single, "Michael Jackson."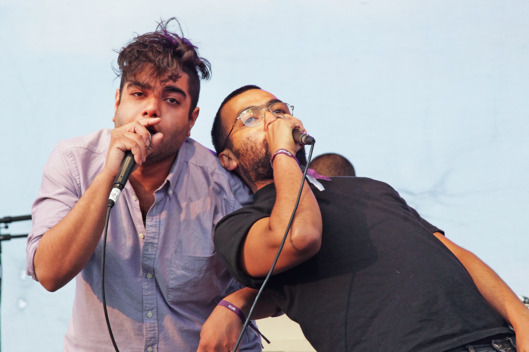 On September 13, Das Racist follow up their two rad mixtapes with Relax, their official debut album. It's out via Das Racist's Heem's own Greedhead Music Label and it'll feature production from a nice coterie of notables: Diplo, El-P, Yeasayer's Anand Wilder, Vampire Weekend's Rostam Batmanglij, and DR themselves. It'll also feature "Michael Jackson," the official first single, which was released earlier today. It's pretty great: The skittery beat demands that the dudes get hype, and the dudes gamely comply (also, the chorus is just "Michael Jackson, a million dollars, you feel me? / Holler"). Two choice highlights: (1) In the second verse, Victor Vazquez explains that you should call him "Janet Jackson" because he has a "hundred dollars" and a "leather jacket" and a "little hat on," and he's "drinking carbonated water by the quarter gallon." (He's also, for various other reasons, DJ Khaled and Ritchie Valens.) (2) In the first verse, Heems caps off a nifty stretch of wordplay by just yelling "I'm fucking great at raaaaapppppiiiiiing." The good name of MJ is not used in vain.