Glee Singers Give Us Their Musical Wish Lists for Next Season
Heather Morris is all about SNAP's "Rhythm Is a Dancer."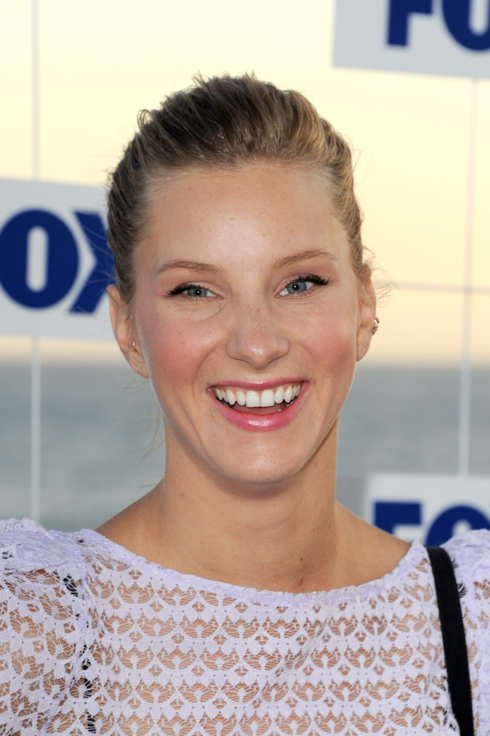 Okay, so the Glee movie didn't do so well at the box office, Season 2 had its ups and downs, and the producers started quite the kerfuffle when they couldn't agree on whether some of their major characters would be drop-kicked off the show before their tossed graduation caps landed on the ground. But don't stop believin', people! Fox's musical comedy will be back for a third season, and the cast and writers were at L.A.'s recent TV Critics Association press tour to spread the word that things would only be getting better. At a TCA party, Vulture corralled Heather Morris (Brittany) and recurring guest star Ashley Fink (Lauren) to probe for spoilers and get their hopes and dreams for songs to cover next season.
When we asked Morris if she's ever lobbied producers for the chance to do a particular song, she said she has but one musical dream. "I've only asked them to do [SNAP's] 'Rhythm is a Dancer'," Morris told us. "There's an acoustic version I want to do with Artie (Kevin McHale). It's really pretty. I want to dance to it and sing, and have him sing to it, too. It would be such an intimate moment, I think. It's sexy, but really cool." Off set, Morris says she's something of an omnivore, a human Spotify if you will, when it comes to music. Her newest discovery? "You know that [La Roux track] 'In for the Kill' that people keep remixing?" Morris asked. "I just downloaded another version of that, not the Skream remix but a newer one. It's a really good mix."
Fink says she's yet to officially bug producers about a specific song choice, but when we asked her for a track she'd dig doing, she didn't hesitate: "I would duet 'Pour Some Sugar on Me' by Def Leppard with Puckerman," she said. "We'd both guitar solo on it, so I could play a little dark." (Apparently, Leppard had darker edges than we recall.) Fink also answered quickly when we queried her about which Glee member she'd personally like to connect with instead of current onscreen love Puck. "Kurt," she cooed. "I'd do anything for him. I don't know if the fans would want it. But you asked me who I'd like."
As for Season 3 spoilers, the actresses had only just gotten a script for the premiere when we spoke and didn't have much of a scoop. Fink, for example, said that as far as she knew, her character and Puck were still going strong. "[But] we're the second-longest relationship on the show ... [and] it's high school," she said. "So something will probably happen." Morris, meanwhile, did mention one plot turn she's heard about for the fall: Brittany's "back on the Cheerios," she said. "I don't know any of [the details]. But Naya just told me. I'm really stoked because it means I get to dance more." Another big question mark for Morris's alter ego is whether or not her character will be graduating this season. Again, no insight from the actress on this point, but she did offer up a cool scenario for what the future might hold for Brittany whenever she leaves school. "Maybe she decides to work on 3-D films for Discovery Channel. That would make me fucking happy," she said. "She'd be good at that. She'd get to go to the North Pole. She'd be searching for polar bears with a camera crew. Or maybe she'd do some journalism and try to interview [the polar bears]."