Check Out the Poster for The Good Wife's Third Season
Alicia gets a little naughty.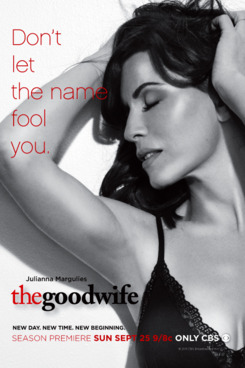 As its title would suggest, The Good Wife hinges on the moral struggle of Alicia Florick, the titular spouse played by Juliana Margulies, in the wake of her state attorney husband's very public, Spitzer-like affair. For the better part of two seasons, Alicia played the dutiful mother and wife: staying together for the family, supporting her husband through his reelection campaign, and, crucially, not indulging in some very obvious chemistry with her boss (and former flame) Will Gardner. That is, until last season's final episode, when Alicia, armed with some new, hurtful information about her husband, threw her principles out the window long enough to spend a tequila-soaked night in the presidential suite with Will. Good news for Will fans: A first look at season three, featuring scantily clad Margulies doing her best Victoria's Secret impression, suggests that Alicia has probably not spent her last night in the hotel penthouse. CBS clearly wants to play up the steamier side of the procedural, and new viewers should probably be reminded that this is, in fact, a show about a law firm. But New, Not-As-Good Alicia does look pretty killer in lingerie.