Jessie J Does Her Best Katy Perry Impression on 'Domino'
Dr. Luke does it again.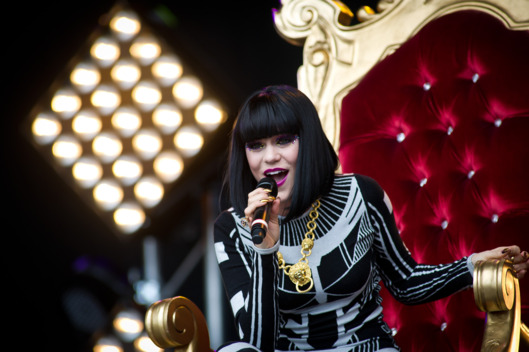 A quick refresher on British pop star Jessie J, whose "Price Tag" and bowl cut you're probably familiar with but who has yet, despite an SNL appearance and a single full of catchy cash-register sounds, to manage a real American breakthrough: She attended the same U.K. pop-star school as Adele, Amy Winehouse, and Leona Lewis; she co-wrote Miley Cyrus's "Party in the USA"; and Pitchfork dubbed her the "soulless" Rebecca Black. Her debut album, Who You Are, earned a mostly unenthusiastic response (plus the way harsh Black comparisons) from critics and audiences alike; "Price Tag" topped out at No. 23 on the Billboard "100." Not exactly an ideal introduction to the U.S., as these things go. Some British stars — like, say, Cheryl Cole — might just go home and cry into the Vegemite marmite at such a defeat; instead, Jessie J called her old pal Dr. Luke and demanded a Teenage Dream–worthy single to call her own. Good news for Jessie: Dr. Luke delivered. "Domino," which reportedly will be Jessie J's next single, is straight Katy Perry magic: the plucky guitar riff, cheerful "let's bone" lyrics, a soaring chorus, and plenty of room for Jessie to wail on the high notes. It's so KP, actually, that we wonder why Perry didn't include it on Teenage Dream; surely she had first dibs, and no one was begging for her thoughts on alien sex, anyway. But Jessie lands the high notes just fine, and "Domino" shows off her pure pop abilities, if not her soul, to solid effect. Also: The song's a total jam, and in the Katy Perry universe — which Jessie J officially joins in November, as a part of the Teenage Dream tour — it's really the only thing that matters. One point of concern is that a domino, unlike a firework or whipped cream, is not easily shot out of a breast cannon (and to truly adopt the Perry Way, you have to shoot things out of your breast cannon). Can the toy industry invent an aerodynamic domino by November? Or can rocket scientists develop a new domino launcher? The world waits.