Keira Knightley Eyed for a Twist on Romeo and Juliet
'Rosaline' could even come out before its source novel hits bookstores.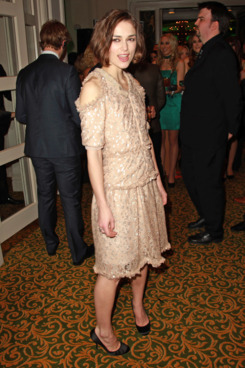 There's overnight success, and then there's … well, there's whatever you call success that arrives nine months before overnight success. Take Rebecca Serle, whose as-yet-unpublished first novel, the Romeo and Juliet twist When You Were Mine, will be released in May. Hollywood is so hot for it, the odds are now actually good that it will become a finished feature film even before it hits booksellers. What's more, Vulture has learned exclusively that Fox 2000 Pictures is in discussions with Keira Knightley about starring.

Serle, 26, graduated with an MFA from the New School in the spring of 2009. Less than a year later, she'd finished her worm's-eye view of Shakespeare's great tragedy — one told from the perspective of the normally silent Rosaline, whom Romeo first claims to love from afar before he spots Juliet; Serle explores Rosaline falling in love with Romeo's cousin, Benvolio. Last October, Mine sold to Simon & Schuster, and by November, the feature-film rights had gone, too.

In short order, Fox-based director Shawn Levy came aboard to produce, with (500) Days of Summer screenwriters Scott Neustader and Michael H. Weber hired to adapt it into the romance Rosaline. Michael Sucsy (HBO's Grey Gardens, and next February's Rachel McAdams–Channing Tatum weeper, The Vow) was hired to direct.

We're cautioned that discussions with Knightley's reps are nascent, but insiders say she's both the studio and producer Shawn Levy's first choice to play Rosaline. (Though, Pirates of the Caribbean haters, take note: We hear Lily Collins of The Blind Side is a strong contender, too.)

While this is familiar ground for Fox, which released Baz Luhrmann's Romeo + Juliet in 1996, we hear Neustadter and Weber's script is a photo-negative of that film. While Luhrmann's film used Shakespeare's sixteenth-century dialogue in the present day, Rosaline will be set in the sixteenth century, but will employ modern-day speech.

Serle, reached by Vulture, expressed a tenuous but ultimately Zen calm at the possibility that Rosaline could well be a finished film even before When You Were Mine hits booksellers. "Someone once said to me — it was Michael H. Weber, actually — that it's a 'happy coincidence' when films get made," explained Serle, 26, adding, "So you really have to look at them as two separate things." When asked about the prospect of people judging her book based on how it jibed the movie, rather than vice versa, she sounded simultaneously anxious and resigned. "It's a very separate thing," she insists, "I think writers are prone to overanalyzing, but it could be a multitude of things: People could hate the movie, but love the book. Or they could hate the book, but love the movie. Or they could love the book and love the movie. Or they could hate both. To be perfectly frank, I don't know how any of it is going to go."


For now, Serle is trying to focus on her next novel, which is due to her editor at Simon & Schuster in just a few months. Probed for her thoughts on the possible casting of Knightley, Serle confessed to having had very few preconceived ideas of which actress her Rosaline most resembled. "I did used to be a really big fan of that brown-haired girl on that show Roswell [Shiri Appleby]," Serle admits, "But I'm going to be totally honest: I guess I saw her as a little bit of myself ... As a writer, you have such strong visuals in your head that, as characters, they exist 'as they are,' you know?" Maybe so, but in the meantime: If there were ever a time that Shiri Appleby considered locking Knightley in a basement, this might be the one.