Bravo Announces Disappointing Real Housewives 'Tour'
Watch what happens! When random cast members from different cities appear together for no reason.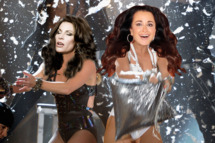 Put a rich person onstage to spew lunatic nonsense, explain ridiculous beefs with other rich people, test limits of credulity, and increase their level of notoriety while decreasing their level of perceivable humanity: If it works for Charlie Sheen, it can work for the Real Housewives. Perhaps that's the thinking behind the three panel appearances Bravo announced today for some of its Real Housewives cast members from across the many iterations. If you've always wanted to see Countess LuAnn from RHONY and Vicki from RHOOC in the same place, now is your chance! They will be in Atlantic City on October 1, along with Caroline from RHONNJ and Kyle form RHOBH. Gracing the stage in Hammond, Indiana, are Sonja from RHONY, Gretchen from RHOOC, Lisa from RHOBH, and Phaedra from RHOA; and coming to Atlanta, Georgia, are Nene from RHOA, Jill from RHONY, Melissa from RHONJ, and Marysol from the forgotten Miami outpost. So no two cast members from the same series at any of the events, and Andy Cohen isn't even hosting? And tickets cost $49 to $170? What a scam. Call us when there's a super-season called The Real Housewives of Bravo and everyone's favorites (Kim, Nene, Teresa, Vicki ... ) have to interact with each other all the time.