See All the Red-Carpet Looks From the 2011 MTV Video Music Awards
There were costumes, sure, but mostly, there was black.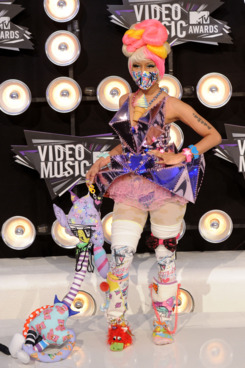 This year's MTV Video Music Awards had its surprises, from Beyoncé's announcement of her pregnancy to a near-kiss between Britney and Gaga. (Though, at this point, Britney has near- or full-kissed just about everybody at these things, so it maybe wasn't that surprising. We'll have to check the videotape, but we have a vague recollection that she tongued Mae West at the 1936 VMAs.) But the red carpet was notably restrained this year (many wore black, seemingly as a show of respect for the late Amy Winehouse), though the arrivals area did have its flashes of outrageousness: Nicki Minaj wore a rainbow-colored updo, geometric dress, and a, er, face mask; Katy Perry, parasol and all, looked like Nicki's California-bred Harajuku sister, next to a comparatively tame Russell Brand; and Brit-popstress Jessie J, who was the show's house musician for the night, showed up in bejeweled crutches. (Lady Gaga didn't walk the carpet this year, preferring to save the stubbly surprise of her drag character for the big show.) Click on and see all of the looks of the night, from subtly stylish to blinding.
BEGIN SLIDESHOW