Regrets? Spencer and Heidi Have a Few
The two over-the-top villains wonder why they never became beloved.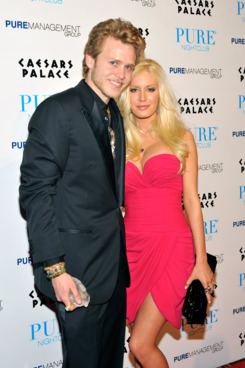 Reality-television villainy was a little different when Spencer Pratt and Heidi Montag perfected the art of it just five years ago. Nowadays, Real Housewives clash with abandon, but they'll go on The View during their off-hours to hint that their catfights are pretty much scripted. For Speidi, there were no off-hours: When the two weren't filming The Hills, they took their on-camera shtick home with them and indulged in even more ridiculous stunts, including hilarious paparazzi shoots, Michael Bay audition tapes, and full-body plastic-surgery makeovers. They were so committed to their gonzo, real-life infamy that they felt like fictional characters. And now they regret it.
The reality duo sat down with the Daily Beast to confess that their hate-on-me antics have bled them dry financially:



Spencer estimated they spent $2 million on Heidi's ill-fated pop-music career, hiring writers, producers, and engineers who worked with Rihanna, Nicki Minaj, and Lady Gaga. There were lots of clothes, too. "I probably spent a million dollars on suits and fancy clothes," Spencer said. "My whole million-dollar wardrobe — I would never wear that again. They're props. Everything we were doing, we were buying props. I bought a big blue monster truck just to drive it on The Hills for an episode. Never drove it again."

Spencer — who previously appeared on 2005's short-lived reality series The Princes of Malibu — grew up with privilege and private schools in Los Angeles; Heidi was raised in tiny Crested Butte, Colo., with little money and lots of megachurches. "I should have known growing up and not having any money ever that I should have kept every dollar that I had," Heidi said. "I thought I was investing in myself and my brand. Like Kim." As in Kardashian, who came up often during the interview. Heidi continued: "When she buys these clothes, she's investing in herself. Because she is a big brand and is likeable. I thought I had that potential. My ego got too big. To think I could be someone like that when I was the most hated girl ever."
"What real job ... would want Spencer Pratt, with the stigma I've attached to my name?" asks Pratt. Then again, the semi-retired, semi-reformed star can think of at least one: "If they called me right now and said, 'We want you to be on Jersey Shore and be a bully, and we'll bring your paycheck back,' I'd say, 'Get me on a plane to Italy.'"
When Reality-TV Fame Runs Dry [Daily Beast]