Can The Hour Sate Your Mad Men Craving?
Mostly critics just want people to stop comparing them.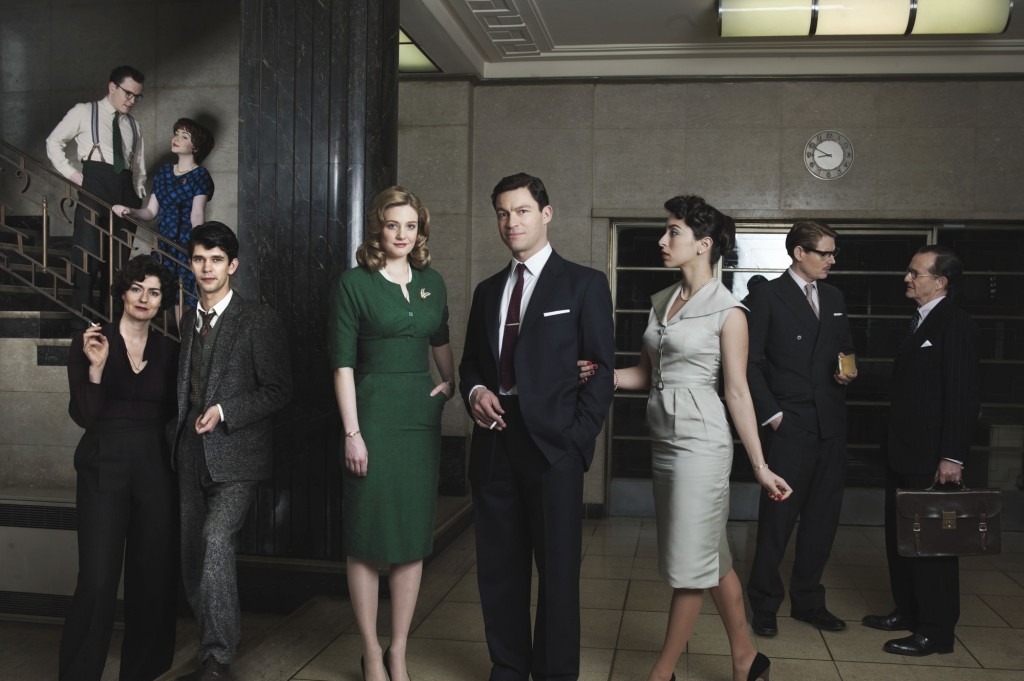 A new show about old things premieres on BBC America tonight, and all anyone wants to talk about is how it's like that other show about old things. The Hour is a fifties drama-thriller about the media and spies, and features Dominic West speaking with his natural accent. Given its setting and its visual palette of good-looking people wearing well-tailored clothes and killing themselves with cigarettes and booze (and sometimes guns: like we said, spies here!), The Hour has invited many comparisons to Mad Men. But can you actually get your Mad Men fix from this series? (Only have to wait until 2012!) Unfortunately, while some critics say The Hour is better than Mad Men and others say it's worse, most say the only thing the two have in common is how they look and that we should all move on. Which is admittedly difficult for those of us with a Mad Men jones, so we had to take a closer look.
"Any period piece set in the 1950s is bound to look a lot like Mad Men, and this narrative also unfolds through an amber haze of cigarette smoke, whiskey and social taboos. Yet unlike the many sterile Mad Men knockoffs that American networks are bringing out in the fall, like The Playboy Club and Pan Am, this BBC series isn't a pale imitation of anything else on television." [NYT]
"Yes, this is technically one of the post-Mad Men retro shows hitting the air this year (the others are NBC's 'Playboy Club' and ABC's 'Pan Am'). ... [but] 'The Hour' stands perfectly well on its own merits. It's so good that other shows should start looking to it as something to emulate." [SF Chronicle]
"These days, every period piece — American or British — is automatically compared to 'Mad Men.' But, other than the fact that 'The Hour' has an extremely cool look and feel, there's absolutely no comparison." [Salt Lake Tribune]
"The unfortunate coronation of 'Mad Men' as the '60s show to end all '60s shows obscures an important fact. While Matthew Weiner and AMC may have kickstarted the craze for television about the late '50s and the early '60s, that doesn't mean other artists can't play with the formula and find ways to improve it. And BBC's The Hour, arriving on BBC America at 10 tonight, lays down a marker." [Atlantic]
"Creator and writer Abi Morgan takes a few cues from 'Mad Men' creator Matthew Weiner and dresses the show with the clothes, the cars and the mood of the day. The dialogue is refreshingly crisp and literate. Everyone smokes." [Boston Herald]
"Wreathed in cigarette smoke, dressed in suits and ties and silk stockings and set at a mid-20th century moment of cultural change, 'The Hour,' a six-part miniseries premiering Wednesday on BBC America, will beg a brief comparison to 'Mad Men.' And now that's done." [LAT]
"For very slight reasons, the terrific new BBC America miniseries 'The Hour' is being compared to 'Mad Men.'' So now I will push the snowball forward by discounting the comparison. Yes, they're both pre-1970s period pieces in which women are mistreated and everyone shamelessly sucks down cigarettes. Otherwise, they're completely different beasts." [Boston Globe]
"Unless 'Mad Men''s Don Draper has run afoul of spies, these are different beasts. While the two shows take place in bygone decades — 'The Hour' in post-war England in 1956 and 'Mad Men' in the 1960s — the two aren't at all similar beyond the prevalence of booze and cigarettes and the hourglass silhouettes of the show's women." [Daily Beast]
"As with 'Mad Men,' it also has a kitschy vintage feel; the creators clearly took pains to make everything— from the clothes to the automobiles to the technology — authentic." [San Antonio Express-News]