Insane Clown Posse's Violent J Talks Religion, the Civil War
He's "almost sure" about history.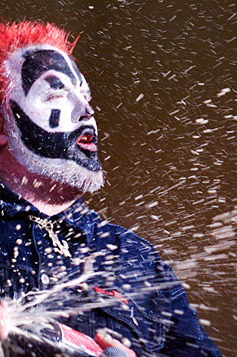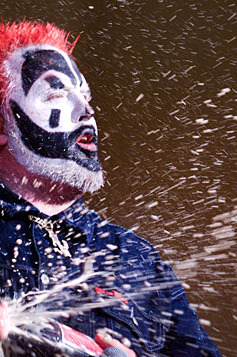 Marveling at Insane Clown Posse and their fans has become one of the Internet's fondest hobbies; just when you think Juggalo fever will start dying down, more wisdom tumbles forth from ICP itself. For example, in an brain bending Q&A with AV Club, that you should read in its entirety, Violent J says he is "almost sure" that the South used the rebel flag in the Civil War.
On history: "I don't know much about our history, so at the risk of sounding even more ignorant than I am, I tend to think … I'm almost sure that rebel flags were what the South waved in the Civil War, and the majority of the Civil War was about slaves."
On regionalism: "… if you're telling your stories in your rap like, 'I ran across the front lawn,' or, 'I kicked his ass on the front lawn,' little things like that, 'I pulled up in a driveway,' just words you use and shit, it just is Midwest … Even though now we're doing great in New York City, but I think it's more-or-less Long Island where everyone's coming from, where they have front lawns."
On getting Snoop Dogg to collaborate: "He didn't want to go through any record-label business, but he said if we gave him $40,000 in a briefcase, he would spit the verse. [Laughs.] In a briefcase. So we went out there and delivered it in a briefcase."
On pop music: "A lot of our music can only be described as pop, besides the cussing and the crazy lyrics and the crazy topics. But the sound is definitely pop-inspired."
On examples of big things your homies are there for: "When you had sex the first time, the chances are your friends were in the other room … When you got that tattoo, or all that stuff. Big things. You accidentally threw up in your boy's car because you're all out drinking, and you feel worse about it than he does. Those are the kind of lyrics that we talked about. Those are important things in your life, time spent with homies."
On religion: "I don't even know what the difference is between a Christian or a Catholic or a Muslim or a Buddhist. I don't have a fucking clue, man. I know what I feel, that shit. I know what I think about, and that's what I rap about. I don't even know what a fucking evangelist is, man."
On the existence of giraffes, which he has been talking about for a while now: "Maybe if you live in the desert in Africa, a giraffe ain't shit to you. But for some motherfuckers from Detroit, a giraffe is some shit, man. It is awesome, living on the second story of your house, and have a giraffe stick its head in your bedroom. Tell me you won't freak the fuck out. And the same thing with elephants, man. An animal that big that can step and crush your car? That's like a dinosaur! That's amazing! Just 'cause they're on TV every day doesn't make it any less incredible."