What's the Raunchiest R-Rated Comedy of the Summer?
We consulted with the prudes at the Dove Foundation to find out.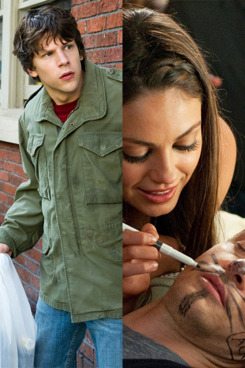 When 30 Minutes or Less opens Friday, it will mark the beginning of the end of the Summer of Raunch Comedy. The heist flick with a comedy-dork lineup is the seventh of nine R-rated comedies to hit the multiplex this summer (Our Idiot Brother, R-rated, but really not that raunchy, and A Good Old Fashioned Orgy are still to come), in what has been a revival of the form. So far this summer, six R-rated comedies have grossed a total of $1.22 billion, more than all the season's superhero movies ($1.21 billion) and that movie about kids with wands ($1.14 billion). hile The Hangover, Part 2 stands out as the clear winner at the box office ($580 million), the question remains: Which raunchy summer comedy was the raunchiest? To determine that we've compiled data from the Dove Foundation, a family-friendly organization that provides movies reviews with an eye toward the tawdry (Dove rates every movie from 1 through 5 in six categories — sex, language, violence, drugs, nudity, other — and gives each film its stamp of approval or, much more commonly, no stamp at all) and our own evaluations. The winner probably won't surprise you: If you disagree, shout it out in the comments.
BEGIN SLIDESHOW