Countdown to Nudity: How Quickly Do Premium-Cable Series Show Skin?
Why, in 18 minutes and 36 seconds, on average!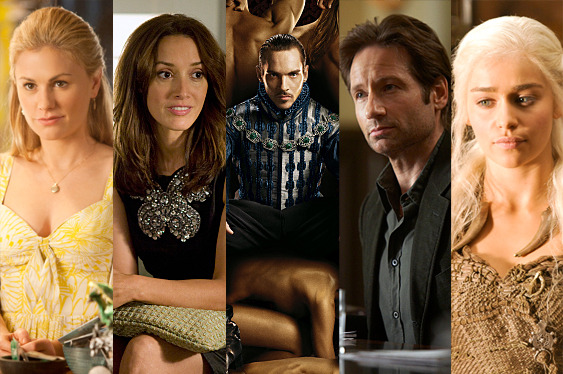 The premium cable channels, HBO, Showtime, and Starz, make their livings by selling consumers on the idea that they can't get the sort of programming these channels offer anywhere else. Some of what consumers can't get anywhere else, the premium networks would loudly proclaim, are world-class dramas, more complex and risqué than anything else on TV. Something else consumers can't get anywhere else, the premium networks proclaim a smidge less loudly, are naked people. On premium cable, there will be boob, or at least ass — especially on the dramas. HBO's most recent series — Game of Thrones and Boardwalk Empire — didn't skimp on the nudity, and Showtime's upcoming terrorist drama Homeland and Starz's forthcoming Boss both, reliably, deliver breast in the first episode. On average, someone will be naked in the first episode of a premium cable drama in eighteen minutes and 36 seconds. To be fair, the king of the premium cable pack, HBO, actually shows more restraint than the other networks: On average, it takes 23 minutes and 33 seconds for someone to appear unclothed. On Showtime, it only takes 11 minutes and 28 seconds, while on Starz it takes 16 minutes and 44 seconds (if you don't count Boss, which waits a whole 40-minutes-plus to provide a long, lingering nipple close-up, Starz would win, usually providing nudity in 6 minutes, 19 seconds). Take a look at the complete, time-stamped list to see to see which shows and networks are most swiftly providing consumers with naked people for their buck.
Please note that if a show did not have any nudity in its first episode, we didn't include it here. We also didn't include comedies, which means Sex and the City, provider of nudity in just two minutes and nine seconds — a record! — did not make the list, nor did Eastbound & Down, with its topless woman on a jet ski, at the 27:43 mark.
3:10: Californication, topless woman in bed, smoking a cigarette. (Showtime)
4:31: Crash, naked man and woman having sex. (Starz)
4:41: The Borgias, naked man and woman having sex. (Showtime)
5:38: Rome, naked man's ass as he's brought before Caesar's soldiers. (HBO)
5:45: The Tudors, topless woman during foreplay/sex. (Showtime)
6:04: Spartacus: Blood and Sand, naked man and woman having sex. (Starz)
6:38: Six Feet Under, pantless man, mid-sex. (HBO)
7:01: Camelot , naked woman making out with a shirtless man on a blanket. (Starz)
8:51: Treme, naked man's ass as he gets out of bed in the morning. (HBO)
9:28: Homeland, topless woman, mid-sex. (Showtime)
10:12: The L Word, two naked women skinny-dipping in a swimming pool. (Showtime)
11:39: Big Love, naked man's ass. (Bill Paxton's)
11:53: Queer As Folk, two naked men having sex. (Showtime)
12:40: True Blood, topless woman, mid-oral sex. (HBO)
12:57: Tell Me You Love Me, fully naked woman and man. (HBO)
15:31: Oz, naked man's ass getting tattooed. (HBO)
18:00: Shameless, naked man's ass mid-sex; seconds later, exposed breast. (Showtime)
27:54: Boardwalk Empire, naked female corpse, post-autopsy. (HBO)
28:36: Dexter, nipple slip in a porn video. (Showtime)
30:53: Game of Thrones, naked woman mid-oral sex. (HBO)
33:22: The Sopranos, topless woman pole dancing at a club. (HBO)
48:41: Boss, Exposed breast, mid-stairwell sex. (Starz)
52:00: The Wire, dancer stripping on stage at a club. (HBO)
60:00: Deadwood, fully naked woman climbing into bed, no sex. (HBO)