How Dexter Went From Sociopath to Softie in Seven Easy Steps
It only takes five seasons and a tremendous amount of bloodshed.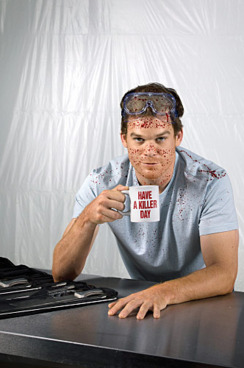 Dexter returns for its sixth season on Sunday, and with it comes the requisite gore deftly contrasted with the brutal sunshine of Miami. Some things never change! But some things really, really do. Like Dexter. Over the course of the series, he's gone from stone-cold sociopath to slightly-less-cold lovable vigilante. Whatever moral ambiguity the show used to embrace — is it okay to ... root for a murderer? — is gone, replaced with a strange certainty (definitely root for this murderer!) that takes a lot of the creepiness away from the show. How did Miami Metro's favorite blood-splatter analyst go from his pas de deux with the Ice Truck Killer in season one to trying to get his son into a prestigious nursery school in season six? By following this plan to go from scary serial killer to soft suburban dad in these seven easy steps!