Does Dolphin Tale Imply That Hollywood Has Taken the Hint About Pricey 3-D?
The sales pitch "also available in 2-D!" seems like a subliminal apology for past rip-offs.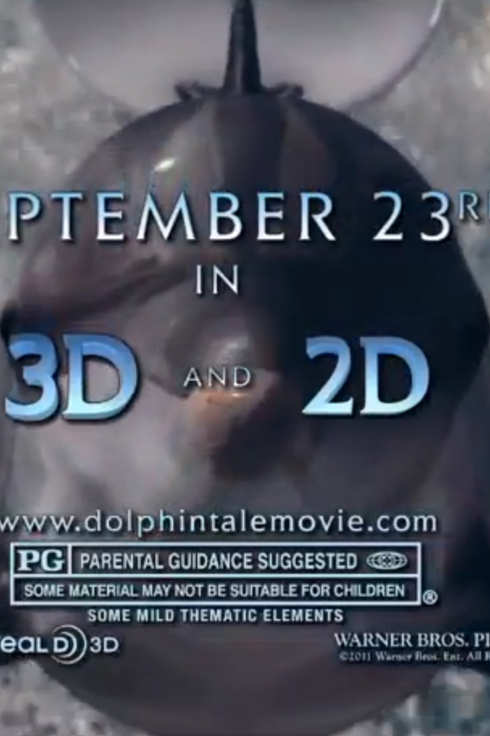 After nearly two years of countless moviegoers grumbling, "I paid an extra three dollars for that?" it looks like Hollywood may be ready to concede that they should back away from 3-D a bit. Case in point, the upcoming 3-D family film Dolphin Tale: Its outdoor and television marketing campaign carries bold disclaimers that the picture is "ALSO AVAILABLE IN 2D." It's as if the marketers are saying, "I know we say 3-D, but you don't really have to do that."
Dolphin Tale was green-lit by Alcon Entertainment in the spring of 2010, amid the glorious afterglow of Avatar (which achieved an astonishing 90 percent of tickets sold in 3-D) and just as Tim Burton's Alice in Wonderland got 70 percent of its audiences to pay more to see it through the more expensive 3-D looking glasses. "The conventional thinking at the time that the movie was green-lit was that all family films would be, and should be, in 3-D," explains Alcon Entertainment's co-CEO Broderick Johnson, adding, "But since then, there's been a real push-back on 3-D and 3-D prices."
3-D films were always also shown in 2-D, but they were like the used-car section of the cinema: Yes, the ticket seller could show you something in two dimensions, but only after they'd made sure you wouldn't want the upgrade of a nice shiny pair of glasses. But more people have been opting for the bargain version: Recent family films offered in 3-D like Cars 2 and Kung Fu Panda 2 persuaded only 40 percent of increasingly cash-strapped parents to pony up for the 3-D surcharge — and that has Alcon vigorously backpedaling on Dolphin Tale's 3-D-ness. "There's a conflicting school of thought," explains Johnson, "Some people say you should push 3-D no matter what. But we understand that times are tough, so however you want to see it, it's a great film. I mean, it's not obvious that Dolphin Tale should be in 3-D to begin with, but we made a fundamental decision to shoot in 3-D because we wanted to give people that chance to be as close as possible to swimming with that dolphin, as it's shot mostly in water, and underwater."
Johnson doesn't believe that 3-D has morphed into an actual liability, and he says he believes the marketing course-correction will protect Dolphin Tale. But he also allows, "if we had made the movie only available in 3-D, I think it would be hurt by that."