Glenn Close Premiered Albert Nobbs at Toronto on a Very Surreal Anniversary
Exactly ten years before, she was leaving the festival after trying to raise money for 'Nobbs'...on Sept. 11.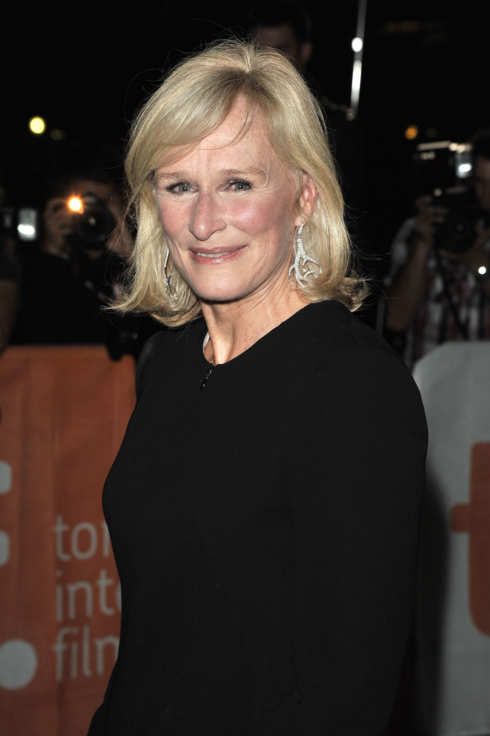 This year's Toronto International Film Festival marked a surreal anniversary for Glenn Close: Her gender-bending period drama Albert Nobbs premiered here Sunday, exactly ten years after the day she left the festival in 2001, having been trying to raise funds for the very same film. It was September 11. "I was in a cab on the way to the airport [back to New York] when on the radio it was reported that the first tower had been attacked," Close recalled to us on Sunday. "The airport shut down. My daughter was 13 and outside of New York and I was desperate to go back. I would have walked. But I had a Canadian friend, a producer, and her husband, and they drove me ten hours back home to be with my daughter."
As she recalled at the movie's pre-premiere party held at TIFF's pop-up Soho House, Close has been trying to get this project made for 15 years: Her devotion to Nobbs began when she starred in a 1982 stage production of it, based on a short story about a woman in 19th century Ireland living as a man and working as a butler at a time when women had little independence. She adapted the play for screen in 1986 and started raising production funds. At the time of the 2001 TIFF, Close and her co-producers had gone to Ireland on location scouts and Hungarian director István Szabó (Being Julia) had signed on. "And then," says Close, "we couldn't get all the final money together." Rodrigo Garcia (Things You Can Tell Just By Looking At Her) eventually came on and directed the movie that premiered at Toronto this week. "That's the nature of independent film," says Close. "They almost never get made, and you build and build and build and if one of the cards falls out, the rest of the house falls down. So you've just got to keep at it if you think it's worth it, and I do think it's worth it."
When the house of cards finally went up and stayed standing, Close was 29 years older than when she'd originally played the role onstage. It was "absolutely" a worry, she said, that Albert wouldn't work as a 64-year-old. "I said to my co-producers, 'First of all, I need to see if I'm still right for the role… It's not going to be a vanity thing. I want it to be real and honest,'" says the actress. "So I went to LA for a weekend and worked with Matthew Mungle, who's a brilliant special effects-makeup person, and the idea was to create the face of a woman who had lived a life of a man for 30 years. You know, she doesn't put on a fake mustache or a beard, but she has lived that life. What does that do to her face? So we did a couple of basic things, and I saw it was possible." She also looked at Charlie Chaplin movies, because, she said, "I always felt like there was something about Albert that was kind of like the cosmic clown of a tragic comedy, because there is a lot of humor in it. So I did a lot of looking at Chaplin and how long his pants were and how big his shoes were. Because initially, of course, her clothes would have been too big and her shoes would have been too big and heavy, and that's what she grows to be used to."
Close says the movie is less about a woman living life as a man than about "an invisible person getting the hope that she can have a full life. To me what it's about is every human being wants to feel safe and wants to be connected to another human being and would ideally love work that will offer them, you know, self worth."