Lisa Lampanelli Is Doing an Episode of Whitney
Stand-ups gotta stick together.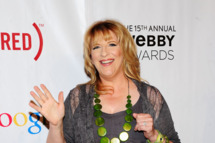 Looks like Whitney Cummings is going to be recruiting some of her fellow stand-up comedy warriors to help out on her new NBC series. Vulture hears that Howard Stern regular Lisa Lampanelli will appear on an upcoming episode of Whitney, playing the manager of a dog pound; she'll get to decide whether or not Whit and her boyfriend Alex (Chris D'Elia) are suitable to adopt a canine. (Plus 5 if producers resist the urge to make the doggie stand in for a potential baby.) Lampanelli joins the recently cast Ken Marino on the Whitney guest roster, and her episode will likely air in late October or November.