Bravo Renews Pregnant In Heels For a Second Season
Rich people still have no idea what to do with their impending offspring.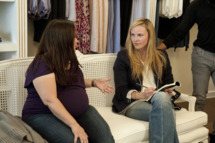 Bravo's "maternity concierge" series Pregnant in Heels will be back for another season, Vulture has learned exclusively. Rosie Pope will help a whole new crop of strangely baffled rich people with such arduous tasks as naming their children, exhibiting any sort of enthusiasm whatsoever for having children, or demonstrating that they're even remotely familiar with how babies behave or what life is like for new parents. The show goes back into production in the next month or two and will air sometime in 2012. Heels's first season wasn't a ratings sensation — it generally pulled in around 680,000 viewers — but it struck enough of a chord for Abby Elliot to do a dead-on impression of Pope on an episode of SNL last season. How could anything that inspires the idea of a water birth "but with Diet Coke" be bad?