Which New Shows Improved on Their Pilots — and Which Ones Didn't?
Checking in on 'New Girl,' 'X Factor,' 'Whitney,' 'Ringer,' and more.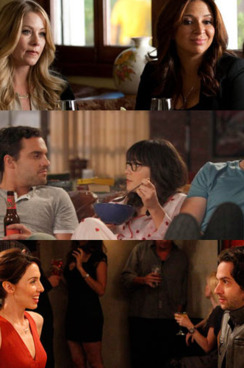 Judging a TV show by its pilot is a tricky business. They're written and produced in an entirely different environment from subsequent episodes. They can be the strongest episode, in that the one or two writer-creators have much more time to finesse jokes and plots than when they plunge into the tighter schedules of having to churn out 21 more episodes on a punishing schedule. But on the other hand, they can also be a bad foot to put forward, because they've been written before the creators know their cast, characters, network, set, or trajectory, and before they have a staff of writers to help iron out weak spots and brainstorm smarter directions, and they can often be stuffed with awkward exposition at the expense of nuance. But increasingly, because of taxing production schedules, the networks only send out pilots to critics because nothing else is ready, so these new shows are applauded or derided solely on these odd, introductory episodes. In the interest of fairness, we checked back in on the second installments of eight of the season's most praised or mocked new series — from Up All Night and New Girl toThe X-Factor and Prime Suspect — to see if things changed, for better or worse, and ranked them from least to most improved.
BEGIN SLIDESHOW