The CW's Secret Circle Had a Solid Debut
But it calls attention to the fact that the audience for 'Vampire Diaries' is eroding.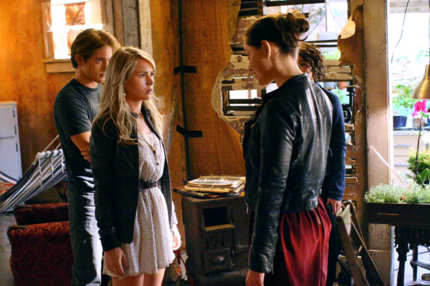 The CW got some solid sampling for its latest supernatural soap, The Secret Circle, with last night's premiere attracting 3 million viewers and tying for the network's best-ever 9 p.m. Thursday ratings in women under 35. Per Nielsen, Circle scored a 1.9 rating in the young female demo, holding on to a decent 84 percent of its lead-in, the season-three bow of The Vampire Diaries, which averaged a 2.2 in the same category at 8 p.m. Circle earned the same rating with women 18 to 34 as the premiere of Nikita last September. The bad news for the CW, however, is the fact that TVD continues to show Nielsen erosion: The vamp drama fell 20 percent from its season-two debut last fall, despite facing far less competition than in 2010, when TVD went up against the NFL Kickoff on NBC and one of the final episodes of CBS's Big Brother. One thing to keep in mind for all of these overnight ratings reports is the fact that they don't reflect viewers who choose to watch shows via DVR a day or two after they air; with more than 42 percent of TV homes now DVR-friendly, that can make a big difference once final ratings are released.