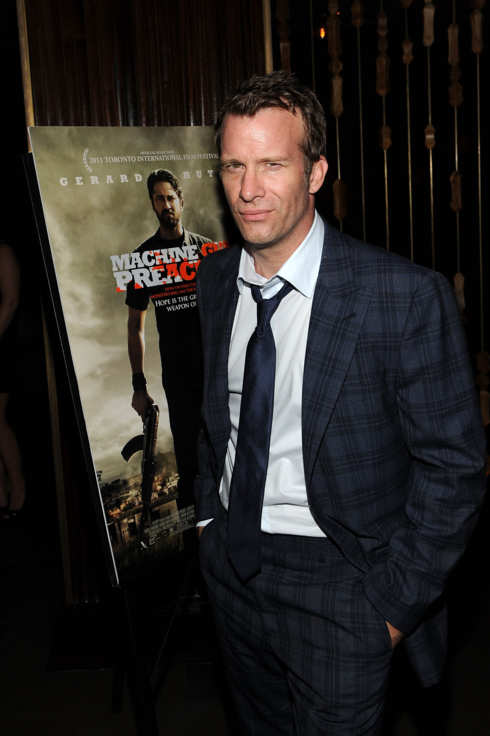 Thomas Jane raised a few eyebrows this past weekend when he chatted with Vulture about his series Hung, saying, "I told HBO, the year I end up with a penis in my mouth is the last year of the show." Last night, when we saw Jane at the Machine Gun Preacher premiere, he sought to clarify himself. "Of course, everything I said was meant in good humor, good fun," Jane told us. "You know, I'm a fan of the gay community, just because I've grown up in Hollywood around them, I have family members who are gay, really good friends, co-workers, a lot of the writers on Hung are gay, so it's amusing to think, obviously I would never be able to tell HBO what to do, or the writers how to write the character. But for me, it's an expression of what I find interesting about the show."
Jane went on, "You've got a character who's very rigid in his belief system, and his comfort zone is rather narrow. It makes for good drama, to take a guy whose comfort zone is very narrow, to put him in these situations, and we do, this year. And that's the other thing, we set up the fact that Ray does become a conduit for two Midwestern women to express their sexual feelings for each other in one of the episodes, and in one of the other episodes, I date a transgender woman, so we deal with a lot of cool stuff, you know, and I'm very proud to say the things I get to say about human sexuality on my show."
And if that's not enough, "I feel very proud of the fact that I still have one of the longest gay kisses in screen history, me and Vincent D'Onofrio, in The Velocity of Gary," Jane told us. "I'm sorry for people who don't know and take anything I say too seriously. Nothing I say should be taken too seriously. But they have that right. Nothing wrong with a little controversy!"