Join Vulture for Emmy Night!
Sunday night we've got the Fugs live-blogging the red carpet, and our own team taking on the ceremony via live-blog and Twitter.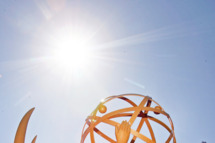 The Emmys: Is there anything better for a TV fan than turning on your TV to see all your favorite TV actors assembled to get awards for their TV shows? It's like eating a doughnut stuffed inside of a mousse pie with a fudge fork. And did we mention that in this analogy your teeth are made of Reese's Pieces? Oh, pushed it too far, did we? That's just because we're all discombobulated with excitement over this Sunday's Emmys, and we hope you'll join us here for a full night of coverage. At 6 p.m., the Fug Girls will be live-blogging the red carpet, and later weighing in on their choices for best and worst outfits. At 8 p.m., they pass the baton as Vulture live-blogs the ceremony while tweeting throughout, so make sure to follow us @vulture. After the show we'll have analysis, clips, and epic party coverage from all of Emmy weekend. See you back here (we promise, there will be no more dessert similes), and go Parks and Rec!