Wilson Phillips Got a Reality Show
Let the nineties nostalgia continue.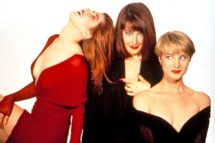 Wilson Phillips is staging a comeback via a reality show on the TV Guide network, the channel announced today. The Wilson Phillips Project will follow the not-so-private lives of Carnie Wilson, Wendy Wilson, and Chynna Phillips as they seek to once again rule the charts – but is the show a little bit superfluous? After all, Chynna Phillips Foxtrotting on the upcoming season of Dancing With the Stars is probably more of a publicity boost for the defunct girl group than any dedicated series could be, and the band's appearance in Bridesmaids didn't hurt, either. America is currently riding a wave of nineties nostalgia, and everyone knows that emotional harmonic jams never go out of style, but a lingering affection for "Hold On" doesn't seem like quite enough of a hook for a whole series. Maybe if Wendy can somehow morph into a Tamar Braxton–style breakout star ...