13 Million People Watched Tim Allen's Sitcom Return
This is good, not great.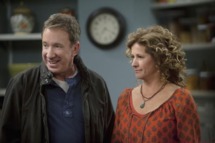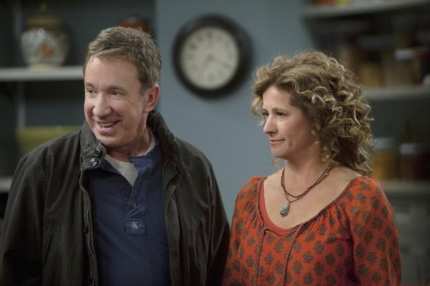 Tim Allen returned to series television for the first time this century Tuesday, and viewers responded by giving him a warm but not wildly enthusiastic greeting. Per Nielsen, the one-hour debut of Allen's half-hour family sitcom Last Man Standing drew just under 13 million viewers and averaged a 3.5 rating among adults under 50. Considering the fact Man is an 8 p.m. show with no network lead-in, and that a good chunk of its potential older male audience may have been watching either baseball or even the GOP presidential debate, this is a solid debut. The show also added viewers in its second half-hour, though that's not uncommon and may also be attributable to early tune-in for Dancing With the Stars. That said, ABC invested heavily in Allen because he is, in theory, a comedy icon with the ability to draw a crowd and launch a whole new comedy night for the Alphabet. And yet, his debut was just 10 percent better than No Ordinary Family, the ABC drama that lived in the 8 p.m. Tuesday time slot last fall but lasted less than a season. It is not unreasonable to assume ABC execs might have hoped Allen's show had brought more power to the night, particularly in a year when sitcoms seem to be doing so well. That said, if Mancan keep doing similar numbers in the weeks ahead, particularly when Glee returns next month, then whatever mild disappointment the network feels today will be forgotten and replaced with an order for many more episodes.