Things Other Than the Future Movie and TV Show That Were Covered at the Arrested Development Reunion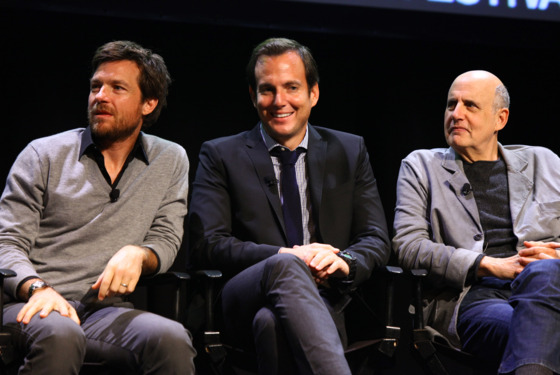 Comedy nerds are just now regaining consciousness after the news broke that there will likely not just be an Arrested Development movie, but also a mini-series leading up to it. This TV geek version of an A-bomb was dropped Sunday during a panel discussion on the show at the New Yorker Festival and seems to have eclipsed everything else that happened during "Arrested Development: A Bluth Family Reunion." But Vulture was there (and fortunately did not black out) and can report some of the other tidbits that emerged during the festival, such as how the Bluths' religion shifted and how creator Mitch Hurwitz had to teach Michael Cera the comedy value of an erection.
The entire cast was there: Jason Bateman, David Cross, Portia de Rossi, Tony Hale, Alia Shawkat, Jeffrey Tambor, Jessica Walter, and Cera, along with Hurwitz and (by phone) exec producer and narrator Ron Howard. They seemed giddy to all be assembled on the Hell's Kitchen stage. "I'm really excited about it," Will Arnett (a.k.a. Segway-steering "illusionist" and wannnabe Lothario Gob) had told us the night before at the Saturday Night Live after-party. "We haven't all been in the same room together since they said, 'That's a wrap' in December 2005." The mostly twentysomething crowd brought proof of their allegiance to the Bluths in the form of shirts, DVDs, props purchased on eBay (Buster's prosthetic hand — the result of a run-in with a seal — $350; Gob's Segway, $7,500), and discerning questions (as for the family religion, Hurwitz says, "It started with a really gentile vibe to it, but then it just got more and more Jewish"). Great trivia tidbits emerged: pausing the DVDs will reveal jokes on the refrigerator; Cross had to fight to let his alter ego, Tobias, have a mustache; Tambor — who everyone agreed set the tone for the entire show with his straight-faced delivery — was only supposed to work one day on the set; and the Bluth's banana stand (where their adolescents did their due-paying in paper hats) was based on the Chipyard, a cookie shop in Boston founded by Hurwitz's dad.
There was no Full House–style tiptoeing around the fact that the two youngest Arrested Development co-stars — Shawkat and Cera — went through puberty during the show's run. "Can I tell the erection story?" blurted Hurwitz. In a scene with the family in a crowded car, Cross's Tobias was supposed to tell his daughter, "Okay, we are just about ass-to-ankles back here, Maeby. Do you want to hop on your cousin's lap there, please?" George-Michael (Cera) of course had a long-standing crush on her, but Cera was confused as to why he was supposed to be so terrified at the prospect of this reshuffling. Hurwitz had to explain that there was engorgement at play. (This education must have saved Cera some embarrassment when he arrived at the Superbad set.)
Hurwitz also helped his older actors clarify their points of view. With one sentence — "All Buster wants is safety." — Hale received all the direction he would ever require to trigger Buster's paranoia. And if de Rossi started to doubt the physical comic choices she made with Lindsay Bluth, she reassured herself with a less-than-Zen mantra: "As long as I'm completely self-absorbed, I'll be fine." And Arnett said, "I never thought of Gob as a jerk, just way out of touch with reality. I always thought Gob's main objective was that he wanted the love of his brother and his dad — he knew he would never get it from his mother."
Photo: Neilson Barnard/Getty