Coldplay vs. Lou Reed and Metallica: How Did Their Early Online Debuts Affect the Anticipation Index?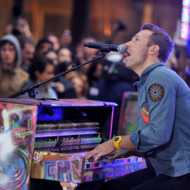 Two upcoming musical releases showed up early online this week, one legally and one illegally: Coldplay's Mylo Xyloto leaked (it officially drops next Tuesday) while the Lou Reed–Metallica collaboration Lulu was offered as a free audio stream for fans to sample (it's due in stores November 1). And yet it only moved one of them on Vulture's Anticipation Index, our scientific Twitter-and-blog-based ranking of real-time buzz. What does that mean for the future of these albums?
Mylo Xyloto had been percolating near the top of the AI even before it had leaked, thanks to all of the advanced Coldplay hype and press. And its Tuesday leak only bumped it up one spot, to seventh place. Lulu, however, had been down at No. 45, but after it was offered online, it soared to 11, and eventually to 3 by Thursday's end, when Coldplay had fallen to 13th. This seems to bode well for Lulu: With Lou Reed aboard, it will attract an older audience that is less likely to search out the album for illegal downloading anyway. (Free streaming seems to be within their comfort zone, though.) So not only were people talking about Lulu online, but presumably they were getting excited to buy it. Coldplay's audience are far more accustomed to just swiping music. (Generation Now, the most tech-savvy group the music industry has ever had to contend with.) So Reed-Metallica's big jump is probably a much more impressive indicator of future sales.
When it comes to hip and savvy fans, Florence + the Machine makes Coldplay look like the Eagles. And their upcoming album Ceremonials also leaked this week, but the results weren't promising: It only jumped on the AI from 52 to 28, and now that the majority of their audience already has what it came for, it's unlikely to climb any further before it's released.
Photo: Stephen Lovekin/Getty