How to Draw a Sizable Paycheck From Woody Allen
'Midnight in Paris' actor Corey Stoll made more than he might have, in a sneaky way.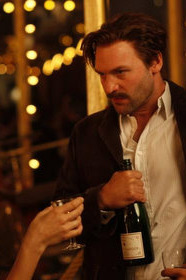 Corey Stoll won raves for his fun performance as Ernest Hemingway in Woody Allen's summer hit Midnight in Paris, and this weekend at David Remnick's New Yorker Festival party, Stoll told us that he's itching to go back to the movie's titular city. "I haven't had a chance yet, and I can't wait," he said. "My parents' best friends in the world are Parisian, and they go back every year. And that's actually who I stayed with when I was shooting the film. And I actually made more money from the film getting what I would have been paid for staying in the hotel by staying with my family friends than I actually got paid by doing the movie." Allen is famous for keeping budgets low, but really: The housing per diem was higher than Stoll's paycheck? He grinned. "That's the reality of doing a Woody Allen movie."