Courteney Cox Sells Yet Another Friends-like Comedy
This one's about a formerly fat woman who owns a diner.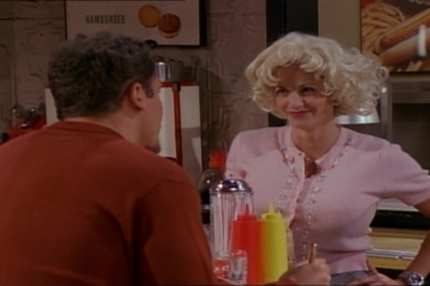 Just like Sonny and Cher, Courteney Cox and David Arquette seem to be figuring out a way to maintain a healthy business relationship post-split. Earlier this month, news leaked out that the duo's ABC Studios-based Coquette Productions had sold the Friends-ish sitcom pitch 10 Years to NBC. Now Vulture hears the Cougar Town star and Dancing with the Stars hoofer have landed another half-hour project, this time at ABC. Written by Rob Sheridan (Mad Love), the single-camera comedy is tentatively called Heart Attack Grill presently untitled, and, based on ABC Studios' official description of the project, we're kind of convinced Arquette just decided to borrow a bit of Monica Gellar's backstory for inspiration. The official logline: "After transforming into a 'skinny girl', a former overeater navigates working with her ex in a diner that caters to people who love to eat." Monica, of course, had a chubby phase (seen in flashbacks), and in season three, she ended up working at the comfort food heaven that was Soho's Moondance Diner. We're going to just consider the similarities a coincidence, though we may have to reconsider if Coquette's next sitcom sale involves an obsessive compulsive neat freak who falls in love with a snarky transponster. UPDATE: This story was updated to note that the project will no longer use the title Heart Attack Grill, which is the name of a small chain of restaurants.