Take Care Track List Reveals Drake and Lil Wayne Are Still Kind of Close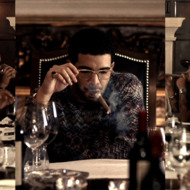 Drake's Young Money boss-slash-bestie is featured on three songs, according to the just-released track list, which was somewhat hilariously discovered thanks to the Microsoft Zune music store. Other guests: Drake-heartbreaker Rihanna, Drake fiancée Nicki Minaj, Rick Ross, André 3000, and mysterious Toronto native the Weeknd. (Abel Tesfaye is also credited as a writer on four songs.) In other track list observations, it would seem — based on titles like "Doing It Wrong" and "Hate Sleeping Alone" — that Drake continues to feel sad, and then to rap about it. The full list is after the jump; Take Care is due November 15.
01. Over My Dead Body
02. Shot For Me
03. Headlines
04. Crew Love (feat. The Weeknd)
05. Take Care (feat. Rihanna)
06. Marvin's Room / Buried Alive Interlude
07. Under Ground Kings
08. We'll Be Fine
09. Make Me Proud (feat. Nicki Minaj)
10. Lord Knows (feat. Rick Ross)
11. Cameras / Good Ones Go Interlude
12. Doing It Wrong
13. The Real Her (feat. Andre 3000 and Lil Wayne)
14. HYFR (Hell Ya Fu**in Right) (feat. Lil Wayne)
15. Look What You've Done
16. Practice
17. The Ride
18. Hate Sleeping Alone (Bonus)
19. Untitled (feat. Lil Wayne)
UPDATE: Drake told LA's Power 106 that Stevie Wonder and Kendrick Lamar will also be on the album, in addition to another track featuring The Weeknd. He also indicated that one or two songs might be missing, but since he didn't confirm anything, we're rolling with this list.