Leaked: Florence + the Machine Not Done With the Drama
'Ceremonials' is here!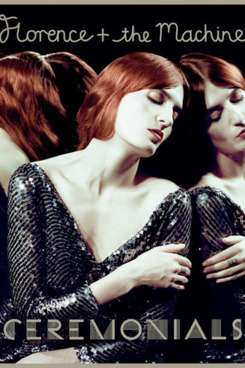 Florence + the Machine, Ceremonials
Release Date: October 31
If there was any concern that Florence + the Machine might back away from the sweeping sound that defined its 2009 debut album, "Shake It Out,", the second single off upcoming Ceremonials quickly put those fears to rest. The song is a barn burner with heavy helpings of organs and yelping — and so was the resultant video (séances, Eyes Wide Shut masks, and chair smashing are all featured prominently). When Florence Welch commits to something, we are learning, she goes all in. This is true of her crazy arm-dancing, and it is certainly true of Ceremonials as a whole. This album is huge.
Stuffed-to-the-brim seems to be the band's M.O. throughout, though occasionally you get a nice harp breakdown ("Spectrum," which attempts to wrest the phrase "Say My Name" away from Destiny's Child) or some extra-plinky piano ("Lover to Lover," in which Florence almost goes Motown). "Only for a Night," the opening track, slows down the otherwise frantic rhythm of the album — but Florence keeps singing about graveyard handstands and "practical ghosts" (lots of the supernatural on this one), and the effect is spooky, rather than mellow. Relaxation, though, is not the point; Florence and friends came to jam, straight up.