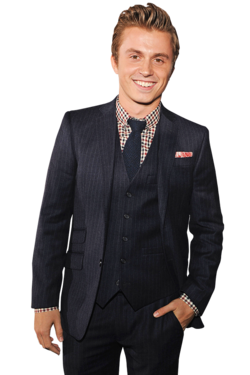 Footloose's Kenny Wormald Is Much More Aggressive Than He Looks
The remake of Footloose arrives in theaters tomorrow, with Kenny Wormald taking over for Kevin Bacon as Ren McCormack. (The original: not as fun as you remember.) The 27-year old Wormald has been a professional dancer since he was a kid, growing up in Stoughton, Massachusetts, just outside of Boston. Last night, we caught up with him at the Footloose premiere after-party at Catch Roof, and spoke with him about his dancing, his Boston accent, and his willingness to protect his co-star — and Ryan Seacrest's girlfriend — Julianne Hough from creeps.*
How did you get ready for the big angry dance scene in Footloose?
You just think about anyone that's ever pissed you off your whole life and take it out on them.
Did you have a double?
As far as the dancing goes? None. I did all of the dancing. The gymnastics flip on the pole, I can't take credit for that. But I mean, great editing. It doesn't look like a question. I wanted to do it, they just wouldn't let me. Safety and insurance reasons.
Is there a time when dancing should be outlawed?
There is a time. Around Julianne Hough, if you're a creep. I can handle it … she, not so much. She's a little friendly and I'll have to fucking elbow him in the face for Mr. Ryan.
You don't look very aggressive.
I don't? Try me. I'm from Boston. I'll fuckin' head butt that guy right now.
You don't have a Boston accent right now.
It's because I'm a good actor! I'm just kidding. I trained to get rid of it over the last six months. Since the film, I made it a point to lose it for other auditions because every time I went into a room they were like, "Where are you from? Boston?" And I'm like, "Fuck. Yeah."
Can you moonwalk?
Absolutely I can moonwalk.
Can you show me?
Yeah, I can show you, but you don't have a camera. I could do it all day, are you kidding me? What's the point? You don't have a camera.
Personal fulfillment?
Oh okay, she's using me now!
You've been a professional dancer for a long time …
I've been dancing since I was 6. I danced with Justin Timberlake … the list goes on. And everything has kind of led me up to here.
So why aren't you showing everyone up at the party?
Because I'm not getting paid to be here. I'm just kidding, because I'm waiting on my drink.
*This post has been corrected to show that the after-party took place at Catch Roof.
Photo: Rick Diamond/Getty Images for Paramount