How Other Homeland Actors Seem to Be Playing Variations on Their Old Characters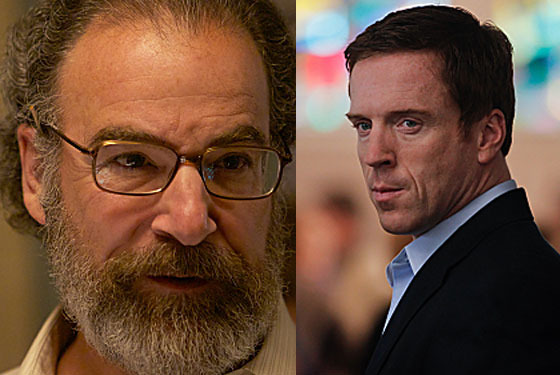 We've established that Claire Danes's Carrie on Homeland is secretly just Angela Chase all grown up. But as the show continues, it's becoming clear that Danes isn't the only one reviving one of her past characters. As tense and intriguing as Homeland is — very, on both counts — there's something strangely familiar about its players.

Damian Lewis as Brody is the same as ... Damian Lewis as Charlie Crews on Life. On both shows, Lewis plays a former prisoner who's thrust back into his old life after years of incarceration — on Homeland as a POW and on Life as a man wrongly convicted of murder. Brody and Crews both struggle to adapt back to civilian life, and both keep big secrets from the people around them. Both changed religions while imprisoned. Both have a thing for fresh fruit: Last week on Homeland, we saw Brody (in a flashback) digging into a spread, and Crews's big tic on Life was constant nibbling on a piece of something or other.
Mandy Patinkin as Saul is the same as ... Mandy Patinkin as Rube on Dead Like Me. Aloof father figure with a young, blonde protégée who worships and respects him but often finds him problematically evasive. He's a moral and ethical anchor for his younger charges, often coaxing them into following — or at least bending instead of breaking — the rules with a combination of tough love and a world-weariness that passes for wisdom.
David Marciano as Virgil is the same as ... David Marciano as Billings on The Shield. Okay, Virgil isn't a jerk, and he's not out to scam anyone the way Billings was. But the rain cloud over their heads is the same, and Virgil's weird obsession with what Carrie has (or lacks) in her pantry mirrors Billings's devotion to his precinct vending machines.
Omid Abtahi as Raqim Faisel is the same as ... Omid Abtahi as Salim on Sleeper Cell. Salim was gay, and so far Raqim appears to be married to a woman, but either way: well-educated sleeper cell member hiding in plain sight.
So far, the only Homeland regular who seems to be breaking away from his or her past work is Morena Baccarin, who plays Brody's wife. But who knows? There's still time for Jess to reveal herself as an evil lizard queen, à la V.
Photo: Showtime