Polone: Why TV Networks Don't Need to Worry About Netflix and Hulu's Original Programming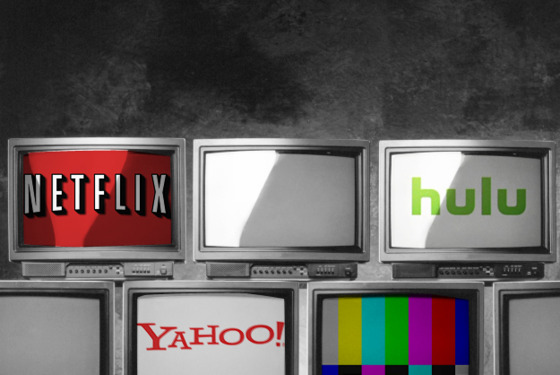 During the first half of this month, YouTube, AOL, and Yahoo announced deals to deliver original content from top television producers, while Netflix declared interest in bringing back Arrested Development and Reno 911! This followed Netflix's agreement to fund and distribute two seasons of Kevin Spacey and David Fincher's new series, House of Cards. The fact that online content providers' original shows will now be competing for viewers' attention has caused many to speculate that this could be disastrous for broadcast networks, as well as their pay and basic cable cousins. I would argue that the ones who have something to worry about are the alpha geeks who think they can beat the old boys at their own game.
Internet companies like Netflix seem to think that they can acquire original filmed entertainment as easily as they do movies and TV on DVD. In their minds, they're like a pipeline company; they've built the pipe and all they need is oil, any oil, to feed the line to the refinery. Unfortunately, they have it backwards. In the world of entertainment, there are scores of pipes that can deliver the product to the viewer: I watch programs on Netflix on the same TV that I do my cable; when I want to see something that I don't have recorded on my DVR and isn't on Netflix, I go onto the network's website to see it on my computer. Like most people, I don't really care about who provides me with the show, I care about what the show is. And when it comes to developing and producing good television, there's a long learning curve that traditional networks have been through and it's far more involved, management-dependent, and difficult than these new-media guys may think.
The Internet companies have mostly avoided hiring "Hollywood" executives to acquire and manage their original content, instead giving those responsibilities to those already at their companies who have no real experience in creating filmed entertainment. This is understandable: They know these established employees can be trusted, they speak the same language, and they are all comfortable with each other's ugly clothes and sexlessness. But they don't appear to be developing much on their own, just buying stuff from big-name producers. In my experience, this won't work. I wish it did, since I'm a producer and would love nothing more than to eliminate the burden of having to deal with intrusive network executives.
As much as I'd like to believe that I am always right, some TV executives — the ones with talent and a lot of experience — make shows better and their companies successful. When development/production/programming jobs go to people who aren't qualified, as is the case with these Internet companies, the first thing these execs do is try to make deals with big-name talent, because they have no frame of reference from which to base their own creative decisions and be confident about them. Buying the services of well-known figures makes for good press announcements and defensibility when the project tanks: "I got Jerry Bruckheimer to do a show for us. It isn't my fault that the show didn't succeed."
While the press release "David Fincher and Kevin Spacey bring their project to Netflix" implies that Netflix impressed these two with their creative savvy, it's important to note that pretty much all of the networks get access to the same talent. If Netflix has bought a project from a production company, I can assure you the other networks have also seen that same project. And it would be preferable for any producer to sell his or her show to an established network, since their ability to program and promote shows is proven, as opposed to Netflix. So, if Netflix — or AOL, Yahoo, or YouTube — has bought something for a mass audience, you can be sure that they just outbid the networks or, more likely, the networks had already passed.
It is difficult to make television. There are many variables at play. You can have a great script and it will still fail after a bad casting decision or in the hands of a mediocre director. That is why networks develop many projects and whittle down their numbers to a select few to put on the air. The process and effectiveness of doing this is what separates the winning networks from the losers, and the decisions made during this process are effected by people who have made a career of the television business. Figuring out what notes to give in development and which script to pick to make into a pilot and which finished pilot would make a better series and many other similar decisions in this process, is both an art and something informed by experience.
No network wants to develop scripts and make pilots that don't turn into series. It is expensive and time consuming. They do it because there is no other way to come up with a few hits. Just buying one or two shows, even from successful producers, and going directly to series with them and figuring you will compete with the others who develop a hundred scripts per year would be like a Major League team having only the top hitter in the league taking one at bat per game, while their opponents field a complete lineup taking all of their at-bats. Great producers fail often. Brian Grazer has a great track record, yet he also produced The Playboy Club this year. Because NBC has had some traction with new shows Up All Night and Whitney, the blowback on this failure isn't terrible. But if Netflix had bought this show in the development stage, as they have House of Cards, and committed to it for two years and $100 million, which NBC did not do, would the outcome have been different? If that was their only original series, with all of the media focus on it, what would be the consequences for Netflix if it failed? How would it affect their stock?
During the last decade, CBS has dominated network television, while NBC, the previous leader, slipped to the bottom. The reason for this, in my opinion (and that of anyone who knows anything), wasn't some patentable technology or more spending or better station groups: It was that Les Moonves, the CBS decider, was better than Jeff Zucker, the NBC decider. I have worked for both and can testify that Les is the best broadcaster alive. The results speak for themselves. Those who have proven to be perennial Hall of Fame talent in this area, like Chris Albrecht (formerly at HBO and now at Starz), John Landgraf (at FX), and Lauren Zalaznick (at NBCUniversal Entertainment and Digital Networks) had and have the ability to get hits on the air, year in and year out, irrespective of circumstances. It is just a fact. Look at Kevin Reilly, the current president of entertainment for Fox Broadcasting. Previously, as president at FX, he developed and programmed The Shield, Rescue Me, and Nip/Tuck. He then took a similar job at NBC and developed pretty much all of their hits, including The Office, Heroes, 30 Rock, and Deal or No Deal. He was then, stupidly, fired by Jeff Zucker, who was somehow promoted after failing for years at the job he hired Reilly to fill. Reilly moved to Fox and developed Glee, while NBC exploded bomb after bomb. It is hard to come up with an argument in this case where credit is not due to the one making the final decisions.
But, apparently, the Silicon Valley executives feel they are smart enough to pick winners without all of the effort and expense that the Hollywood types need to succeed. It is possible that House of Cards will do well and they will look like geniuses. But that outcome could actually be worse for them than if Cards collapses. When I was 16, I had a fake I.D. and went to the track to play the horses. I won the first race on which I bet. This led to overconfidence and a few years of losses I could not afford. Probably the best thing for Netflix would be to have House of Cards fail. Then they could learn from their mistake, regroup, and remodel their incursion into content creation, or just leave it to those who specialize in such things.
Gavin Polone is an agent turned manager turned producer. His production company Pariah has brought you such movies and TV shows as Panic Room, Zombieland, Gilmore Girls, and Curb Your Enthusiasm. Follow him on Twitter @gavinpolone.