Thoughts on the Eight New Character Posters for The Hunger Games
There's a lot to discuss here.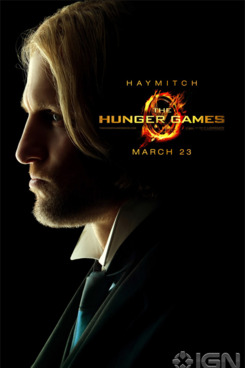 The Hunger Games hasn't shown very much of what it's got outside of the odd paparazzi set photo or meager teaser trailer, but that all changed today when Lionsgate released eight character posters for the March 23 movie. Jennifer Lawrence, Josh Hutcherson, and Liam Hemsworth look pretty much like you'd expect them to, but let's dissect the bold choices made for the rest of the bunch! Is Woody Harrelson (as Haymitch) one top hat away from starring in a Tom Petty video? Is Elizabeth Banks playing Effie, or is that possibly Johnny Depp in disguise? What do you think of Lenny Kravitz as Cinna? And are we sure that this "Alexander Ludwig" fellow who's playing Cato isn't simply a Photoshop manipulation of Hutcherson's face? Opine below!
The Hunger Games Debuts Eight New Posters [Coming Soon]