The Fug Girls Analyze Justin Timberlake's Style Evolution
From denim ensembles to Ryan Gosling–esque couture and all the white tracksuits in between.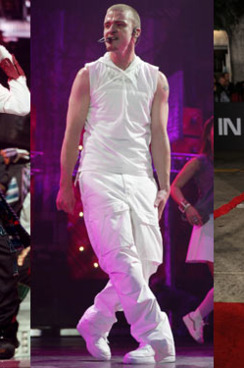 It's been five long years since Justin Timberlake released his last album, FutureSex/Love Sounds. And with this Friday's premiere of In Time marking J.T.'s fifth — yes, fifth, as in, four more than Kate Winslet — movie in the past twelve months, we're guessing our workout playlists aren't getting freshly Timberlaked anytime soon. (Will no one think of the cardio?) Indeed, Timberlake has come a long way since his late-nineties rise to fame, from boy band heartthrob to legit musical force, to Saturday Night Live comedy star, to now, where he appears to want "actor" to be the first word in his hyphenate. Clearly, it's time for a slideshow examining how his style has morphed along with his résumé; the answer is "considerably," because when your starting point is wearing head-to-toe matching denim with your girlfriend, there is nowhere to go but up.