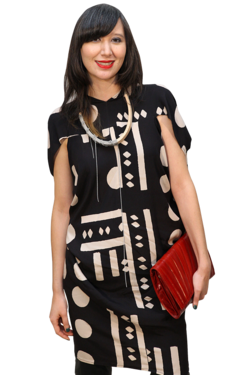 The Yeah Yeah Yeahs' Karen O on Her New Psycho-Opera, Stop the Virgens
Karen O, best known for fronting the Yeah Yeah Yeahs, has long been crossing over into other mediums: She scored Spike Jonze's Where the Wild Things Are and directed music videos for bands like the Liars and Foetus. This weekend she'll turn into the nightmare-ish, singing/yelping den mother at the heart of Stop the Virgens, a psycho-opera she co-created with KK Barrett that features insane costumes, new music, and high-watt collaborators like the Creator's Project and director Adam Rapp. (The show opens tonight at St. Ann's Warehouse and runs through October 22.) We spoke to Karen O about dream worlds, the importance of live shows, and becoming a theater person.
So, crazy week. How are you doing?
Um, yeah. I'm totally falling apart. I'm like systematically falling to pieces, but it's kind of my M.O., and I think once the adrenaline kicks in it'll all come together.
Has this been harder or easier to pull off than a standard rock concert?
Oh, it's way harder. This is my first foray into the theater world, and they're just animals. It's one of the most grueling things I've been a part of and it's kicking my ass. But it's completely amazing and it's blowing my mind on a daily basis.
It seems like everyone is listening to music now through headphones and staring at their laptops. Do you think it's important to get people back in the habit of going to see things live?
Yeah. When we [the Yeah Yeah Yeahs] were on our last tour — I think it was at the beginning of the recession — I wasn't sure if people were going to come out and check out the live show but, you know, we found that we had mostly an outpouring of people wanting to come see and experience things. I feel like there's a hunger in the culture now for the live experience maybe as a counterpoint to the more sort of synthetic lives that we've been living. So my hope is that, yeah, people will want to come and see this.
Visually, it looks stunning. You've always attached yourself to things that are beautiful, whether it's your music videos, Where the Wild Things Are …
Yeah, I can't separate the art from the music and the music from the art. I think that stems from going to school for film first, and kind of stumbling onto music as my career. Creating worlds and characters and some kind of myth to glom on to, it's just, like, all my favorite stuff about being an artist. Bands that I've loved over the years are the ones that have a certain myth around them.
Can you tell us what Stop the Virgens is actually about? It's not straightforward.
It's a dream narrative, you know? It's dream logic. It should feel like a dream, basically, so you're not worried what happens next or what happened before, you're just sort of along for the ride.
It's called a psycho-opera, so hopefully it's not a dream you have every night.
Well, you know, whatever floats your boat. [Laughs.]
How did the term "psycho-opera" even come about?
Basically, Mike Swift, who's been the dramaturg [for Stop the Virgens], and who's been Adam Rapp, the director's, right-hand man through the whole process, we were having drinks at Great Jones Café, and we were throwing around what to call it because "rock opera" just has some sort of connotations now that we wanted to get away from. So he just sort of threw out, "It's like a psycho-opera." And Adam and I were like, "A psycho-opera. Yessss." We got so excited.
Do you wish that more artists would do stuff like this?
Yeah. A huge reason why I wanted to do this and do this now was because there just wasn't anything else out there like it and because I wanted it to be something new and something that, if I hadn't done it, I'd be dying to go to. Basically it's that thing you hear over and over again: "Oh, I just kind of make the music that I would like to hear," or, "Oh, I just bake the kinds of cookies that I would like to eat." This is just making the kind of insane, crossover experimental project that if I knew was out there, I would love to check out myself [laughs]. It's very rare and very special and obviously a huge privilege to be able to do something like this, when most people would never take a risk on it.
What's next? Are you just going to collapse? Take a vacation?
The immediate plan is some sort of vacation, which is still being planned. And then after this, I'm not quite sure. I'm going to keep working on music with the Yeah Yeah Yeahs. We've been working on stuff on and off for the last year since we got off tour, so we'll definitely continue with that. And, yeah, there will definitely be a decompression period from this, which I have no idea what the anticlimax, after it's all over, is going to feel like. We'll just kind of see what happens, you know?
Two inspiration models for the show, by KK Barrett:
Photo: Bennett Raglin/WireImage