Does Kristen Wiig Deserve an Oscar Nod for Bridesmaids?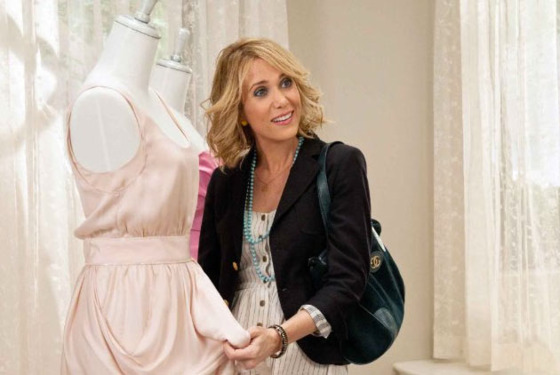 Melissa McCarthy's Emmy win a few weeks ago seemed to come as a surprise to a lot of people, including the actress herself. Forced to explain her win for the critically derided Mike & Molly, awards pundits came to two dawning conclusions: McCarthy probably won in large part because everyone loved her big-screen role in Bridesmaids ... and wait, does that mean that she's actually a dark horse candidate for a Best Supporting Actress nomination at the Oscars? Since then, McCarthy's been popping up as a potential nominee on a lot of Oscar prognosticators' lists (ours included), and while that's a totally fun idea that we can get behind, it brings up one big question: If anybody from Bridesmaids deserves an Oscar nomination, isn't it Kristen Wiig?
To be fair, we realize this is a long-shot, never-gonna-happen proposition. McCarthy's got a chance in Supporting Actress because that group is far from locked and the category is friendly to big comic performances (hello, Marisa Tomei in My Cousin Vinny!), but Wiig nabbing a slot in the ultracompetitive Best Actress category? Forget about it, right? It's a year where you've got Meryl Streep playing Margaret Thatcher! It's a year where you've got Glenn Close as a period transsexual and Rooney Mara donning tattoos and an accent as the most iconic literary heroine of the decade — and yet Oscar watchers can't even agree on whether either of them will be nominated! Not to mention the fact that if Oscar's going to go for a darkly comedic thirtysomething singleton embracing all her worst qualities, it's got Charlize Theron playing sad-sack romantic stalker in Jason Reitman's forthcoming Young Adult. How can Wiig compete in her niche with a capital-M Movie Star who's already won the Oscar once before?
With all those odds stacked against her, Wiig fails to show up in even the second or third tier of most Oscar pundits' predictions, and it's time to call that for what it is: unfair bullshit. We've got three months left in the year, and we've already seen several of the performances expected to be in contention for the big O, and you know what? Wiig is better. In fact, we're willing to say outright that so far, Wiig has delivered the best female performance this year.
Her work in Bridesmaids is far trickier than she's been given credit for: In any given scene, she veers skillfully from comedy to I-hate-myself pathos, sometimes from syllable to syllable. Wiig's comedic bona fides are well-established (her ten-minute argument with a customer — a DVD outtake! — is a total tour de force), but Oscar ought to be responsive to how well she pulls off the film's numerous dramatic moments. That cupcake scene! The surprisingly dramatic last 30 minutes of the movie! Critics lined up last season behind Lesley Manville's mostly improvised sad single in Another Year, so why are they not falling for Wiig, who not only pulled off the same feat but wrote almost everyone else's dialogue as well?
And here we come to what is probably her best shot at an Oscar nomination, in the category of Best Original Screenplay. The Academy Awards have always been responsive to actors who write (as former winners Ben Affleck, Matt Damon, Emma Thompson, and Billy Bob Thornton can attest), and the Original Screenplay category is usually incomplete without one hit comedy. We expect that Wiig and her co-writer Annie Mumolo are near locks for that nod, just as we think that Wiig's got a great shot at a Golden Globe nomination, thanks to that organization's extra categories for comedy. But when it comes to the big kahuna — that shiny, much-coveted Oscar — shouldn't Wiig at least be in the conversation? Or will she be the bridesmaid yet again?
Photo: Suzanne Hanover – © 2011 Universal Studios