Are Melancholia and Martha Marcy May Marlene the Same Movie?
Depressed blondes are all the rage this season!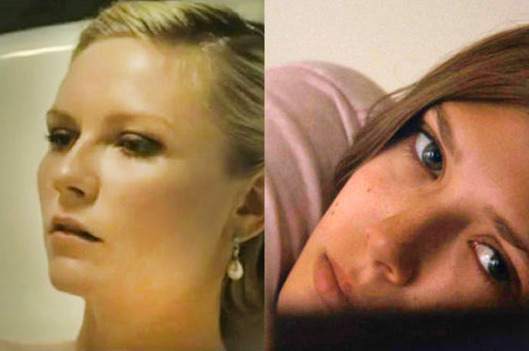 How have your indie moviegoing habits been lately? Perhaps you've seen the red-hot indie Martha Marcy May Marlene, but you're waiting for Melancholia to open theatrically in two weeks? Or maybe you've already caught Melancholia on demand, but Martha Marcy hasn't expanded to your city yet? In either case, we've got good news for you: If you've seen one of those movies, you've kind of seen the other, too. Sure, Sean Durkin's tiny-budgeted cult drama and Lars von Trier's gorgeous, apocalyptic melodrama might initially appear to have little in common, but you'd be surprised how much they resemble each other underneath their hardscrabble and glossy surfaces, respectively. Here's a chart breaking down their similarities, with some light spoilers.
| | Martha Marcy May Marlene | Melancholia |
| --- | --- | --- |
| Who is the lead character? | Martha (Elizabeth Olsen), a depressed, haunted blonde who goes to stay with her sister and brother-in-law and attempts to recuperate (and sleep a lot). | Justine (Kirsten Dunst), a depressed, haunted blonde who goes to stay with her sister and brother-in-law and attempts to recuperate (and sleep a lot). |
| Tell me about her sister. | She's Lucy (Sarah Paulson), a tightly wound caregiver who's frustrated and confused by her addled younger sibling. | She's Claire (Charlotte Gainsbourg), a tightly wound caregiver who's frustrated and confused by her addled younger sibling. |
| And the brother-in-law? | Ted (Hugh Dancy), a rich, supercilious asshole who shelters Martha but wants her gone. | John (Kiefer Sutherland), a rich, supercilious asshole who shelters Justine but wants her gone. |
| Where do they all stay? | A gorgeous vacation home by the water, courtesy of Ted's wealth. | A gorgeous vacation home by the water, courtesy of John's wealth. |
| Does the lead actress go nude? | Yes, but in an arty way. | Yes, but in an arty way. |
| Does she also have sex with Brady Corbet at some point? | Yes. | Yes. |
| But which tall HBO regular is her primary romantic partner, whom she eventually flees? | Deadwood and Eastbound & Down star John Hawkes. | True Blood and Generation Kill star Alexander Skarsgard. |
| Is our heroine a good houseguest? | Nope! She has a tendency to strip her clothes off at inappropriate times and unsettle her sister by predicting imminent doom will come to them. | Nope! She has a tendency to strip her clothes off at inappropriate times and unsettle her sister by predicting imminent doom will come to them. |
| But is she fun to have around at a party, at least? | No, not that either. When her sister throws a party, Martha has a nervous breakdown and has to be sent to her room. | No, not that either. When her sister throws a wedding, Justine has a nervous breakdown and locks herself in her room. |
| Is the movie split into halves? | Yes: Half the movie takes place at the cult that Martha has escaped, and half takes place at the vacation home, but they commingle in Martha's mind. | Yes: Von Trier quite literally includes title cards to break the movie up into two sections. |
| Does a major plot point happen in the final shot of the movie? | Sure seems that way! | I'll say! |