Gossip Girl's Josh Schwartz Planning a Remake of the U.K. Hulu Hit Misfits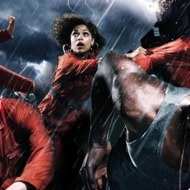 Good news for loyal Chuck fans mourning the fact that the show begins its final season later this month: Series co-creator Josh Schwartz is planning another foray into the sci-fi arena. Vulture has learned exclusively that the prolific writer-producer (Gossip Girl, Hart of Dixie) is planning to adapt the British sci-fi drama (and Hulu hit) Misfits for American audiences. Our spies say Fake Empire, the Warner Bros. TV-based production company Schwartz runs with partner Stephanie Savage, has just finalized a deal for the rights to the show, which revolves around a group of working-class teens who find themselves endowed with superpowers following an electrical storm. (Think the good, first season of Heroes with Buffy-esque snark and a similar Scooby-ish gang). Schwartz will team up with U.K. Misfits creator Howard Overman to write a U.S. translation. There's no network attached as of yet, but given the response to the original series, it's hard not to imagine it finding a Stateside TV home.
Misfits, unlike many imported formats, has already proven itself to be of interest to American viewers. This past summer, Hulu began streaming the freshman season of the show, and the results were impressive: It regularly ranked among the site's most-streamed series whenever new episodes dropped, with Variety estimating more than 9 million views to date. This American success mirrors a strong run on Britain's E4 network, both critically and commercially: The most recent season of Misfits averaged over one million viewers per episode, doubling ratings from 2009's season one. In addition to healthy ratings, the show shocked many observers last year by besting the mighty BBC machine to garner the BAFTA award for best drama series. Critics have also responded favorably to the show's sharp use of wit and Skins-level realism in depicting teen behavior (the original isn't shy about rough language and nudity). The comparisons to Buffy and Skins would seem to make Schwartz a potentially ideal collaborator for Overman: The writer's known for injecting scripts with plenty of wry banter, and both The O.C. and Gossip Girl pulled no punches in depicting the teen animal in its natural, sex-and-alcohol-obsessed state.
Schwartz and Overman are foregoing the traditional development process, in which a network buys a pitch from a scribe and later decides whether or not to film a pilot. Instead, the two have opted to write the new Misfits on spec. This means that, schedules permitting, they'll write a pilot in the next few months and then shop the finished product to networks late this year or early in 2012. While not the usual route to the small screen, it's becoming increasingly common for projects with well-known writers or actors attached early in the process. Keifer Sutherland's upcoming mid-season Fox drama, Touch, was a spec script, as was NBC's upcoming Awake and the CW's Ringer (which began life at CBS). One advantage of the spec path is that it lets creators develop a pilot without networks nitpicking development details. In the case of Misfits, potential buyers will also have the advantage of watching previously produced episodes of the U.K. original.
Schwartz (who makes his debut as a feature director next October with Paramount's Fun Size) and Overman will both serve as exec producers on the U.S. Misfits, along with Fake Empire's Savage and Len Goldstein, and Murray Ferguson of Misfits' U.K. production company Clerkenwell Films.
Photo: Clerkenwell Films